3 Decadent Empanada Fillings that Go Beyond Beef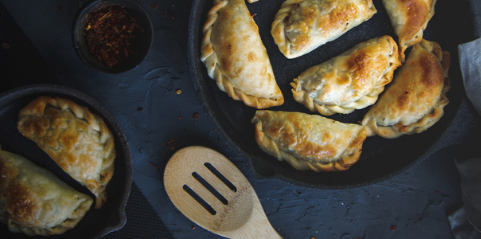 Traditional empanadas are typically made with ground beef or pork, but there are a large number of variations on this delicious Latin American staple.
Simple enough that you can make them right at home —as long as you have a box of premade puff pastry in the freezer— here are three decadent empanada fillings that go above and beyond.
Caprese Empanada
Give your empanadas an Italian flair with mozzarella, basil, and our Tomato Basil Vegan Pâté. For added flavor, serve with basil sauce for dipping. Trust us: These make for great appetizers, and are sure to please even the pickiest of eaters.
Ingredients:
8 ounces of grated or crumbled mozzarella cheese
2 slices of our Tomato Basil Vegan Pâté
A large handful of basil (chopped)
1 egg whisked— to be used as egg wash
15 store-bought empanada discs
Instructions:
Mix the grated mozzarella,Tomato Basil Vegan Pâté, and basil in a bowl.
To assemble the empanadas, place a spoonful or two of the cheese mixture on the middle of each empanada disc.
Fold the empanada discs and seal the edges. You can use your fingers to twist and curl the edges creating a seal, or you can crimp the edges with the tines of a fork.
For best results since the empanadas contain cheese, chill them for at least 30 minutes before baking. This will help them seal better and prevent leaks.
Arrange the empanadas with 2 inches of space between them on all sides, then lightly brush the top of them with the egg yolk. This will give them that irresistible golden glow when they bake.
Bake in a preheated oven at 400 degrees F for 18-20 minutes, or until golden.
Cool for 5 minutes and serve!
To serve (optional): 
Chicken + Mushroom Empanada 
When you combine ingredients like our Chicken Liver Mousse, olives, and mushrooms, the result is irresistibly mouthwatering. Conversely, you can also fill the puff pastry with potatoes, peas, mushrooms, and carrots for a more British take on the recipe.
Ingredients:
6 – 8 ounces mushrooms diced
2 slices of our Chicken Liver Mousse
1 small onion (chopped)
1/4 – 1/3 cup pitted green olives (chopped)
1 1/2 teaspoons hot paprika
Few tablespoons of olive oil
Splash of Rosé
Salt (to taste)
1 egg whisked— to be used as egg wash
15 store-bought empanada discs
Instructions:
Sauté the mushrooms and onions in about two tablespoons of olive oil over medium heat. Add a pinch of salt and cook for 5-6 minutes until the mixture is caramelized. Add the splash of wine and deglaze the pan. 
Add another tablespoon or two of olive oil then add the Chicken Liver Mousse, paprika, and olives. Heat and stirfor about 2-3 minutes.. Turn off the heat and wait until the filling cools to room temperature.
To assemble the empanadas, place a spoonful or two of the mixture on the middle of each empanada disc.
Fold the empanada discs and seal the edges. You can use your fingers to twist and curl the edges creating a seal, or you can crimp the edges with the tines of a fork.
Arrange the empanadas with 2 inches of space between them on all sides, then brush the top of them with the egg yolk. This will give them that irresistible golden glow when they bake.
Bake in a preheated oven at 425 degrees F for about 20 minutes, or until golden.
Cool for 5 minutes and serve!
Corn & Goat Cheese Empanada
Corn, goat cheese, and our Curry and Bell Pepper Pâté combine to create a sweet, tangy, and salty treat that's perfect for vegetarians— or anyone who just really loves an exceptional empanada.
Ingredients:
1 tablespoon butter
2 slices of our Curry and Bell Pepper Pâté
1 tablespoon olive oil
1 small sweet potato (finely diced)
1 small red bell pepper (finely diced)
1 1/2 cups sweet corn kernels
2 scallions (chopped)
Salt and pepper (to taste)
6 oz. goat cheese
4 oz. cream cheese
2 tablespoons parsley (chopped)
1 egg whisked— to be used as egg wash
15 store-bought empanada discs
Instructions:
Heat the butter and olive oil in a skillet over medium heat. Add the sweet potato and sauté until just starting to get golden. Add the bell pepper, Curry and Bell Pepper Pâté, and corn and cook for about 5-8 minutes (until tender). 
Turn off the heat and stir in the scallions. Season with salt and pepper, to taste. Allow to cool for a few minutes. Pro tip: The mixture can be warm, but not piping hot.
In a bowl, add the goat cheese, cream cheese, parsley, and vegetable mixture. Stir well and taste again for salt and pepper.
Spoon about 2-3 tablespoons filling into the center of each empanada disc.
Fold the empanada discs and seal the edges. You can use your fingers to twist and curl the edges creating a seal, or you can crimp the edges with the tines of a fork.
Arrange the empanadas with 2 inches of space between them on all sides, then lightly brush the top of them with the egg yolk. This will give them that irresistible golden glow when they bake.
Bake in a preheated oven at 400 degrees F for about 25-30 minutes, or until golden.
Cool for five minutes and serve!
Tomato & Pâté: The Summer Food Duo You Didn't Know You Needed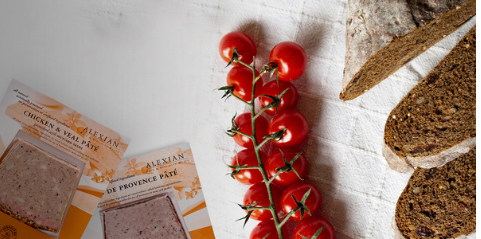 Read on as we highlight three flavorful and easy recipes involving the summer food pairing you should add to your repertoire ASAP: tomato and
pâté.
Crostini
An irresistibly simple Italian appetizer, crostini is crusty bread with different delicious toppings.
For our pâté-inspired version of this recipe, you will need:
1 loaf of fresh Italian bread, cut into thin diagonal pieces
8 oz of sharp white cheddar
1 pint of cherry tomatoes, sliced in half
1 slice of Chicken and Veal Pâté (or any one of our coarse pâtés)
First, slice your loaf into thin diagonal pieces. Then, cut the cheese and pâté into slices that will fit like puzzle pieces onto the slices of bread. To construct the crostini, place the cheese and pâté on the bread and top with the cherry tomato slice. Repeat until you've reached the desired number of crostini you wish to serve. Voila! 
Caprese Sandwich
A classic vegetarian Italian sandwich, a Caprese sandwich is a flavorful dish composed of fresh mozzarella, tomatoes, and sweet basil, seasoned with salt and olive oil.
For our pâté-inspired version of this recipe, you will need:
1 Italian sub roll
1/2 tablespoon extra-virgin olive oil
1/2 tablespoon balsamic glaze
3 thick slices fresh mozzarella (buffalo, if possible)
2 fresh Campari tomatoes (thickly sliced)
5 basil leaves
Salt, to taste
Freshly ground black pepper, to taste
1 slice of Alexian Sage and Pork Mousse
First, split open the roll and slice the tomatoes. Spread pâté, to taste, on the underside of the top half of the roll, then drizzle with extra virgin olive oil and balsamic glaze. Add basil and tomato to the bottom half of the roll and sprinkle with salt and pepper. Top with fresh mozzarella and, as the Italians would say, Mangia!
Tomato Pasta Salad
Featuring large chunks of ripe tomatoes, fresh basil, tangy red onion, and Parmesan cheese,  Tomato Pasta Salad is a satisfying meal that everyone will love.
For our pâté-inspired version of this recipe, you will need:
5 tablespoons olive oil
1/2 cup chopped fresh basil
1/2 cup red onion
2 large garlic cloves, chopped
1 1/4 pounds tomatoes, chopped
8 ounces penne pasta
1/2 cup grated Parmesan cheese
Salt and pepper, to taste
1 slice of Alexian Pâté de Campagne
In a large bowl, mix the tomatoes, garlic, salt, pepper, oil, basil, red onion, and Parmesan cheese. Cover, then refrigerate for around two hours to blend the flavors. Meanwhile, cook and drain pasta as you would normally. Rinse with cold water to cool; drain. Slice the pâté into small chunks and let it get to room temperature. In a large serving bowl, mix cooked pasta, tomato mixture, and pâté until well combined. Sprinkle extra Parmesan cheese over top, to taste.

Brunchin' with Pâté & Mom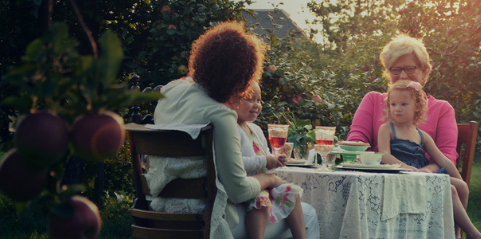 Wow Mom this Mother's Day and add these pâté recipes to your holiday menu.

The Brunch Burger

Build the ultimate menu for your #1 lady by creating the ultimate brunch burger. 

We suggest opting for a Mushroom & Artichoke Pâté stuffed bistro burger. Simply make your favorite burger recipe as you normally would, but add a bit of pâté into the center of each burger before cooking. We recommend dicing the artichoke and mixing it into the smooth portion of the pâté, so you have an even spread to work with. Pro tip: Top it off with a fried egg for a Mom-pleasing main course. 

The Egg Brunch

Start the day off on a good (okay, delicious) note with a lovely egg brunch. 

Try spreading Sage & Pork Mousse on a baguette, followed by over medium eggs and mixed greens, for a hearty brunch meal. For something lighter, Tomato Basil Vegan Pâté on a whole wheat tortilla will do just the trick. Simply add in scrambled eggs and fresh baby spinach; then wrap up and enjoy.

If Mom is more of an omelette type of gal, cube any of our coarse, country style pâtés and mix it in with onions, peppers, mushrooms, or any other omelette fixings. We're getting hungry just thinking about it.

The Crepe Brunch

Crepes are a classic when it comes to putting together a sophisticated brunch. 

Turn the much-loved mainstay into a savory masterpiece by pairing it with one of our rustic country-style pâtés. Embrace gourmet French herbs and spices with our Herb de Provence Pâté, or enjoy the richness and tantalizing texture of our beloved Duck Rillette. Either way, Mom will surely be pleased.

The Sides

You can't have brunch without some sides!

Try smothering some hash browns with diced bites of our Eggplant & Goat Cheese Pâté, and topping them with some sauteed peppers and onions for bite-sized flavor bombs. You can also do the same with crispy fries, onion rings, and potato wedges. 

Want something a little bit healthier? Try a brussel sprout salad with a maple-Dijon dressing. Combine shaved brussel sprouts, toasted walnuts, and raisins in a mixing bowl. Then, whisk together Dijon mustard, maple syrup, apple cider vinegar and extra virgin olive oil until combined. Toss the salad with the dressing and season with salt and pepper. Voila! 

The Brunch Drinks

With the food taken care of, we can now focus on what really matters in preparing the perfect brunch: alcohol. You didn't think we'd write a whole article on brunch and not bring up drinks, did you? 

Universally beloved, sangria is incredibly easy to make in large batches. It only takes a few minutes to prep, it's easy to customize with your favorite wine and fruit, and it's great for entertaining a crowd (in this case, Mom)!

A brunch time staple, a mimosa is equal parts champagne and orange juice— easy enough for even the most inexperienced mixologist. As simple as they are fun, it's the perfect drink to serve Mom on her big day.

Since it's totally acceptable to sip one or two before noon, Bloody Marys are also a favorite when it comes to brunch. While the ingredients vary depending on who's preparing the cocktail, they generally include tomato juice, prepared horseradish, celery salt, black pepper, and vodka. We know what you're thinking: This might be a little too strong for Mom. To which we say: Just think of the powerhouse of vitamins she'll get in each vitamin-fortified sip…

Happy Mother's Day!

Champagne Showers & Pâté

Sparkling wines like champagne and prosecco aren't just festive— they also go extremely well with pâté. Especially in April when it's all about Spring, warm weather, and…. well, drinking. Below, we unveil our top 5 champagne and pâté pairings.

Light Dry Champagne + Herb de Provence Pâté

Crisp and wonderfully fizzy, light dry champagnes pair well with herbypâtés, like our Herb de Provence recipe. This snack or light brunch is perfect for enjoying outside in the garden with friends and loved ones, or for a small and casual anniversary bite with your beau.

Medium to Full-Bodied Champagne + Wild Forest Mushroom Pâté

Rich and bursting with flavors, medium to full-bodied champagnes are not for the light of heart (or faint of stomach). Think: Alfred Gratien, Gosset, Henriot, J. Sélosse, Ruinart, Veuve Clicquot, and Ponsardin. If you're opting for any of these bubblies, we suggest pairing them with our Wild Forest Mushroom Pâté, which is also jam-packed with flavor.

Brut Champagne + Truffle Mousse Pâté

There's something about brut champagne that makes it feel even more decadent than regular champagne. And what better pair for decadence than a succulent Truffle Mousse Pâté? Savory and satisfying at once, this pairing is ideal for a girls night or me-time.

Mimosas + Vegetable Pâté

Craving a mimosa and light snack? Turn to Wycliff California Champagne and Lunetta prosecco and any of our Vegetable Pâtés. If you want to host— or gift yourself— a full-on brunch, try goat cheese sandwiches, topped with slices of pâté and cucumber (or potato chips) for a satisfying crunch.

Moët & Chandon + Any of Our Pâtés

Because if you're drinking Moët & Chandon, you deserve it all.

Underrated Snack of the Month: Crackers


Ah, the humble cracker.

Often salty and crispy, crackers are the ultimate snack food whether you're busy on the go, or simply lounging at home. They're also severely underrated.

But not anymore.

We here at Alexian proudly consider ourselves cracker enthusiasts (read: lovers). In fact, we love crackers so much that we've decided to write an entire article about them to finally give them the praise they deserve.

Here, we break down our top four reasons why we believe crackers deserve way more hype.

They're Delicious

Simply put, crackers are delectable bite-sized vessels of happiness. Take, for instance, our Rosemary & Olive Oil Crackers. Featuring a hint of olive oil, a touch of sea salt, sprinkled with rosemary, and baked to a precise degree of crispness, these are a wonderfully tasty addition to every kitchen pantry. But be warned: Weekly restocking might be necessary!

They're the Perfect Accompaniment

Utterly complementary to any partner, crackers are the perfect choice to enjoy solo or crowned with cheese, pâté, figs, or whatever your taste buds are craving. Looking to get real fancy with it? We suggest pairing smoked cheddar, our classic New York deli-style Chicken Liver pâté, and any one of our crackers for a savory taste of brunch.

They're Healthy…

Well… at least in comparison to that chocolate chip cookie you've been eyeing. In keeping with Alexian's commitment to high-quality products, all of our crackers are made with four simple ingredients and nothing artificial. They are also Non-GMO Project Verified, Vegan Certified, and Kosher. Take that, chocolate chip cookie.

They're Portable

Whether you're a mom who needs an on-the-go option or you're a student who is suddenly starving in the middle of a lecture, crackers are a great portable snack to fuel up on, especially when eaten with a few slices of your favorite hard cheese. Plus, they help crush those salty, crunchy cravings! So, next time you're on the go, skip the waist-busting fast food and reach into your stash of cheese and crackers that will keep you full and energized throughout the day.

Best snack ever? We think so.

Pâté: The Perfect Appetizer for Valentine's Day


It's no secret that the key to anyone's heart is food— and this is especially true on Valentine's Day.

For some couples (or anything in-between), this means going out to a fancy restaurant and ordering a lavish five-course dinner. However, for others, a quiet night in with creative cocktails, delicious snacks, and a good Netflix binge is what it's all about.

If the latter is more your speed, consider these four savory pâté-tizers that will show off your cooking skills this Valentine's Day.

Brie and Fig Crostini

Not only is our Brie and Fig Crostini recipe creamy, smooth and delicate in flavor, it's also incredibly simple. Slice brie and warm in a pan for a few seconds until just before it melts. Top crostini with brie slices. Then, add a layer of Duck Rillette, which has been brought to room temperature. Top with freshly sliced figs or fig jam. Voila!

Cilantro Tomato Bruschetta

Dice tomatoes and cilantro together and mix with salt and pepper. Then, dice up your choice of any of our coarse cut pâtés (we recommend our Herb de Provence or our Wild Forest Mushroom). Mix the pâté with the tomato mixture, top the bread to serve, and watch your partner swoon over their gourmet appetizer.

French Picnic Spread

If you're looking to make a romantic statement to a new beau — without looking like a 5-stage clinger — our French Picnic Spread is just the thing.

For this, you will absolutely need: pâté (of your choosing); fresh, crusty bread; cornichons; good cheese; cured meat; and, naturally, some wine. Feel free to incorporate some fresh fruit and a little honey for the cheese, too. Oh, and pro tip: Dress the table with a gingham cloth for a final touch!

3-Ingredient Cracker Bites

Feeling extra low-key this Valentine's Day? Don't fret: Our 3-Ingredient Cracker Bites recipes are here to help.

Our Black Peppercorn Mousse goes perfectly with caramelized onions and a mild smoked gouda, while smoked cheddar complements the bold flavors of our classic Chicken Liver Mousse. Another great combination is any of our vegan or vegetable varieties paired with creamy hummus and crunchy cucumbers. Yum!

Our Winter Pâté Picks for a Snowy Night In

Feeling bogged down by cold weather blues? Then it may be time to head to the kitchen. 

When there's a chill in the air, nothing beats a hearty, comfort meal. Which leads us to ask: What's more hearty or comforting than pâté? The answer: nothing. Plus, if you're stuck inside all day— whether due to frigid temperatures or heavy snowfall— you might as well eat some damn good food.

So, without further ado, here are our top three pâté picks for a winter night in.

Grand Marnier

Offering a savory experience that's hearty but not overpowering, a bite of Grand Marnier pâté will leave your palate with lingering flavors of cognac and fresh orange. In other words, it's as comforting as a warm blanket. 

For a light and quick winter snack, we suggest cubing Grand Marnier pâté and spearing it on a toothpick as you binge-watch your favorite TV show. Craving something a bit heavier? Pick your favorite crusty French bread and add lettuce, tomatoes, and pickles for an effortless sandwich.

Pro tip: Try Grand Marnier with a medium bodied red wine, such as Merlot. Trust us— you won't regret it.

Full-flavored and easy to spread, Truffle Mousse pâté boasts a delightful mixture of rich flavors and creamy, delicate textures— perfect for cozying up on the couch.  

For pairing, enjoy by spreading over a simple baguette or a toasted cracker. Watching your figure? Don't fret: Truffle Mousse pâté also pairs wonderfully with salads, creating an instantly light and satisfying meal.

If you're looking for a buzz, opt for a glass of Rosé or Chardonnay which will bring out the earthy tones of the truffle and the best of the wild mushroom flavor. 

Vegans, rejoice! Tomato Basil pâté is a totally meat-free option that's low in fat and calories, clocking in at just 30 calories per serving.

For a quick and refreshing meal that channels Mediterranean cuisine, pair Tomato Basil with a green salad that incorporates balsamic vinegar and extra virgin olive oil. If you're pining for some carbs (aren't we all?), serve it with sliced whole grain breads and toppings of your choice for a delicious mini sandwich.

Other serving options include: flax crackers, raw pizza crusts, or dip for fresh veggies. 

Happy eating!

Cheers: Decadent Wine and Pâté Pairings

Much like wine, pâtés are filled with intricate flavors— and when paired, the full flavors of both truly come alive.

Overall, the acidity and refreshing nature of white wines are fabulous with most creamy, mousse style pâtés and vegetable pâtés, while the deep, satisfying flavors of red wines are a tasty companion to the heartier mousse and the traditional country style pâtés. That said, some pâté and wine combinations are more delicious than others.

Here, we lay out 5 of our favorite wine and pâté pairings.

Truffle Mousse can be enjoyed with red or white wines. This lighter bodied mousse calls for lighter bodied red wines, like a Pinot Noir or a Beaujolais. White wines are also a great companion and bring out the best of the truffle flavor and creamy texture. Try this pâté with a lighter bodied, unoaked Chardonnay or a glass of Champagne.

When it comes to Duck Liver Mousse with Cognac, we suggest pairing it with a classic Cabernet or a Port Winter. The sweetness of the Port plays well off of the pâté's special blend of spices.

Garnished with fresh orange slices, Grand Marnier Pâté features pork, duck, and chicken liver with orange liqueur. Try this pâté with a Rosé wine. Rosé wines are medium bodied and many have the refreshing feel of white wine with a somewhat deep flavor more typical of a red.

OurForest Mushroom Pâté features the deep and earthy flavors of… well, mushrooms. To many wine enthusiasts, mushrooms should be thought of as red meat in terms of wine pairings. Pinot noir or Cabernet are perfect choices for these pâtés, or try a fuller bodied wine like Zinfandel.

Serve Tomato Basil Pâté or our Mushroom Artichoke with a dry Sauvignon Blanc. Sauvignon Blancis zesty and acidic, making it a great complement to foods that feature tomatoes or artichokes.

10 Pâté Enthusiasts Share Their Wishes for the Season

The perfect Holiday wish? Well, it depends on who you ask, of course. 

This year, Alexian asked 10 of our most loyal pâté enthusiasts about their wishes for the 2020 Holiday season. The response? Loving, thoughtful feedback that we hope can bring light and cheer to your day—  and the 2020 Holiday season. 

"My wish for this holiday season? May it fill all Americans' homes with joy, your heart with love, and your life with laughter." — Nora S.

"To a healthy, happy, and peaceful New Year." — Alex D.

"As lovely as the holidays can be for many, they can also make some feel down and blue. I know this can be a difficult time of year, and I want you to know that you're not alone. I'm sending you lots of love." — Laura F.

"To an extremely joyful present and a well remembered past. Best wishes for happy holidays and a magnificent New Year." — Kristin C.

"Whatever is beautiful to you. Whatever is meaningful to you. Whatever brings you happiness. May it be yours this holiday season and throughout the coming year." — Ronald C.

"Lots of laughter. Lots of good food. And lots of love. What else is there to life, anyway?" — Rebecca A.

"May your holidays sparkle with moments of love, laughter, and goodwill. Oh, and did I mention delicious food?" — Anne S.

"I'm wishing all my loved ones cookies and cakes and spices and cocoa… When it starts to smell like the holidays, it's hard not to get into the spirit." — Danielle F.

"Our family wishes everyone a joyous holiday season and a new year filled with happiness and hope for a world at peace." — Donald N.

"This Holiday season, it's hard to not wish for health around the world. Times are tough, but together we can all pull through." — Debra T.

Alexian Presents: Original Stuffing Ideas

Stuffing is, without a doubt, one of the best parts of Thanksgiving. Here at Alexian, we like to put our own twist on things, and this seasonal classic is no different. Read on for some of our favorite pâté-inspired stuffing ideas to try in your own home this season:
Mouthwatering Mushroom-Leek
The warm, earthy flavors of mushroom paired with the mild bite of a leek is a classic combination in holiday cooking. Bring those flavors to life in a new way by incorporating our Wild Forest Mushroom Pâté into your classic recipe.
First, make a classic stuffing base. Sauté chopped onions, shiitake mushrooms and leeks until soft. Add the sautéed vegetables to your base mix and add a hearty amount of our Forest Mushroom Pâté. Serve the stuffing as you would normally.
Apple+Duck Delight
Our Duck Rillette has an abundance of flavor, in part to the special blend of spices we add during the slow-cooking process. First, create a cornbread stuffing base, with celery and onion. Next, peel, core and chop three apples. Then combine it all together and bake until golden brown.
Top the cooked stuffing with a layer of our Duck Rillette, and serve.
Turn it into an Appetizer
With hungry guests eagerly awaiting the dinner of the year, you're sure to get the occasional wanderer in the kitchen hoping to score a sample. Don't make your guests wait for the main course! Tease their appetites with a bit of stuffing.
Simply double your classic stuffing recipe (or set some aside if you're making a lot already), then scoop the uncooked ingredients into a lined cupcake pan. Bake until golden brown.
To make each cup more filling, top with something savory, like our Truffle Mousse or our Black Peppercorn Mousse. Top with a dollop of cranberry sauce for an added bite of sweetness.
Decadent Pheasant Rosemary Stuffing
Thanksgiving is a day of indulgence, and what better way is there to spoil yourself than with a decadent gourmet stuffing?
Create a meal to remember by adding our Pheasant Rosemary Pâté – rich with pheasant, pork, and duck meats, rosemary and pecans – to your stuffing recipe!
Simply cut this coarse-cut pâté into small cubes and mix into your stuffing base, along with garlic, shallot, parsley, thyme and (optionally) mushrooms.
As it cooks, the flavors of pheasant and rosemary will blend into your stuffing, giving your whole meal a heavenly taste.