Beyond the Potluck: 5 Creative Concepts for Your Next Dinner Party

Dinner parties are a great way to gather community and stay connected during the winter months. Friends getting together, home-cooked meals, and not leaving your house: it's a perfect event to begin with. But we've got a few creative ideas on how to add an extra layer of fun to the next dinner party you throw. And no, it's not just by serving Alexian Pâté.

Bring A Friend No One Else Knows

We first stumbled across this idea via @right.eye.studios on TikTok, and we LOVE the sound of it. On your invitation, indicate that guests should bring a friend no one else in the group would know. Think coworkers, pals from volunteering, and neighbors. There will be plenty of fresh faces at the event, which will encourage mingling! Remember that nervous excitement you used to have on the first day of school? This is that, all grown up.

Easy-Mode Mystery Party

Everyone loves a mystery party, and with the release of the latest Knives Out movie, they're more popular than ever! However, setting up a mystery requires prep work, and you're already busy enough with cooking and hosting. Try this easy-mode mystery method instead: Encourage guests to come dressed as classic mystery characters. Between Clue, Glass Onion, and Enola Holmes, they'll have plenty of inspiration. Then, write down a few kinda-difficult questions and place them in a small bowl. Make sure the questions are tougher than trivia, but not rocket science. Kick off the evening with one question, and have your guests try to figure out the answer in character and without Google. As the night goes on, guests can draw more questions at-will and consult the knowledge-keeper (AKA you) for hints!

Indoor Picnic

This idea comes from @hanselkai, the Tik Tok dinner party queen. If your home is too small for a large dinner table, lean into the bohemian vibes and throw a picnic party! Clear furniture from the center of your space and throw down a gingham blanket or sheet– any thrift store will have one. Add a bright bouquet for a centerpiece and arrange pillows and clean towels as seating. Serve a menu of sweet but hearty picnic fare: mini cheese plates, pâté sliders, and fruit. With this springtime setup, you can escape winter, if just for an evening.

Micro-Gallery Opening

If you're part of an artistic friend group, this one's for you! Send your friends a formal invitation to submit their work for display at a "local micro-gallery." About a week before the party, gather your talented pals' paintings, drawings, collages, sculptures, and writing. Display everything around your apartment in cheap frames and write small labels interpreting their work. On the big night, set up a few food stations serving charcuterie, hors d'œuvres, and of course, champagne. Your friends will have an incredible night of mingling, snacking, and affirming each other's artistic achievements. Bonus points for if you set up a corner for live poetry readings!

Dinner and a Movie

This one may be obvious, but our list wouldn't be complete without it. Invite your friend or boo over for an intimate, one-night-only restaurant opening, AKA: Your living room. Cook something simple, but go all out with the decor. Adorn your little bistro table or nightstand with a nice tablecloth, splurge on an adorable vase, break out the fancy wine glasses, and offer a handwritten menu. With some mood lighting and a Parisian soundtrack, this setup rivals a busy restaurant any day. And of course, cap the night with a movie of your date's choice. They don't have that at Lombardi's!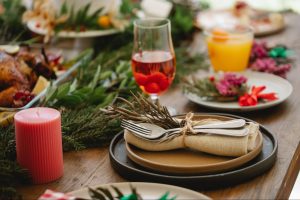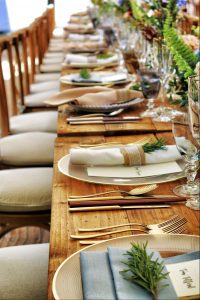 5 Mouthwatering Holiday Appetizers – with Pâté!

It's the most wonderful time of the year! And for hosts, caterers, and heads-of-house, it's also the busiest time of the year. Seasoned party planners already have their main courses picked out, but how to start the meal?

Versatile, spreadable, and downright delicious, pâté is a great base for many exquisite appetizers. Here are Alexian's suggestions on small bites sure to win over the crowd.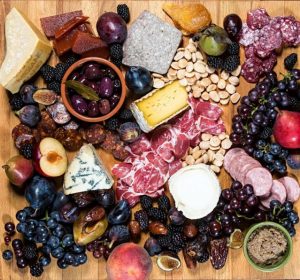 Pomegranate and Goat Cheese Pâté Bites
Flavorful and easy to make, these savory-sweet bites also feature dazzling holiday colors. To make, fill phyllo shells with your favorite goat cheese. Top with any Alexian pâté and garnish with pomegranate arils, honey, and fresh thyme.
Savory Pâté Puffs
Didn't use up all your thyme from the previous recipe? Use some of those same ingredients for this yummy umami-forward snack! Fill puff pastries with mushrooms, caramelized onion, thyme, and pâté, then bake according to the instructions on your pastry box. 
Baby Bella Pâté Poppers
Okay, we'll take a break from waxing poetic about puff pastry and shine the spotlight on pâté's other best friend: tender, tasty mushrooms. Stuff some baby bellas with pâté, season, and bake on an oiled pan until the mushrooms are slightly browned. Cool for a few minutes, then top with cream cheese. 
 Mushroom Pâté Bruschetta
You can't go wrong with bruschetta. Toast several baguette slices for the base, then brush with olive oil and top with minced garlic. In a separate bowl, mix pâté, mushrooms, chopped shallots, diced tomatoes, salt, and a dash of red pepper. Spread the goodness on your baguette slices, and top with even more of that thyme from the previous recipes.
Charcuterie Cups
Everyone loves a good charcuterie board, which is why the appetizer table can get so crowded! For big parties with lots of mingling, consider charcuterie cups. Fill clear plastic wine tumblers with your favorite charcuterie elements for an on-the-go delight. Our suggestion? Almonds or mixed nuts, cheese twists, brie, blackberries, mint or rosemary for garnish, and of course, pâté. Still have some thyme left? Well go ahead and throw some of that in as well????

The Duo: Alexian Mousse and Blinis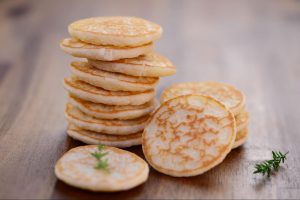 We have the perfect pairing for you to snack on.  Alexian Mousse on blinis are that sudden and delightful bite. In addition to the Alexian products you already know, we want to bring a delicious tip with blinis, which are an Eastern European mini pancake traditionally made from wheat or buckwheat flour, and served with several garnishes. Blini is one of the most-eaten dishes in this side of Europe, and we are introducing to you as the perfect match with our Alexian Mousse. Together they can be served on a variety of occasions since they are  great and tasty appetizers.

 Chicken Liver Mousse on Blinis:

This original duo will not  take more than a few minutes to prepare. Simply spread a generous portion of Alexian's Chicken Liver Mousse over some blinis,  and top with strawberry or grape jam.

The Chicken Liver Mousse's savory flavor is  perfect for  the sweetness of the jam. You may also slice some pickled grapes in half, and place on the pâté as a topping. 

Truffle Mousse on Blinis:

For this flavorsome combination, you need cherry tomatoes cut in half.  Spread Alexian's Truffle Mousse on the blinis,  and top with cherry tomatoes for a sensational degustation. The rich Truffle Mousse flavor is much for  each bite.

Duck Liver and Pork Mousse with Cognac 

Boasting a sophisticated flavor profile, Alexian award-winning pâté  is the fresh, natural and definitively delicious option for a pairing. For this match we spread Duck Liver and Pork Mousse with Cognac on the blinis, and we enhance the plate with pear slices and celery sticks. 

Enjoy with a glass of wine!

Picnics with Pâté!
It is time for outdoor activities. One of the simplest and funnest ways to eat outside, and  spend time with friends and family is to go for a picnic!. You can take it to the next level with sophisticated and delicious Alexian Pâté.

There are many ways of doing a good pâté snack pack. For instance, making pâté toasts. First, choose your favorite Alexian Pâté, put it on top of the bread, add some cheese or veggies and… voila! it is ready to go!

Another option is  creating a delicious cheese platter and Alexian Pâté. To prepare, cut  pâté and a variety of cheeses in cubes. They are both a great combination to enjoy. 

If you are a fan of dipping Alexian,  carrot and celery sticks, or  tortilla chips  are the chosen snacks. We suggest some fresh options such as our Tomato Basil, with vegetable sticks.

Pâté Fans Share their Favorite Breakfast Recipes

We always say breakfast is the most important meal of the day. So, why not start with a delicious Alexian Pâté. Here are 3 breakfast recipes shared by Alexian Pâté lovers.

1. Pâté on a bagel

By Michelle, Jersey City, New Jersey
Ingredients:
Your favorite type of bagel
Any of our Alexian Mousses
Sliced tomatoes (Optional)
Sliced Cucumber (Optional)
Toast the bagel of your choice lightly before spreading any of our mousses on top. We recommend Duck Liver and Pork Mousse with Cognac or Truffle Mousse. Add the sliced tomatoes and cucumber on top, then season with salt and pepper. It makes a wonderful breakfast or lunch!
2. Pâté Omelet
By Jennifer, Torrance, California 
Ingredients:
Eggs
Cheese
Tomatoes 
Peppers
Onions
Chicken and Veal Pâté
We suggest using coarse pâtés sliced and cubed for omelets. Our Chicken and Veal Pâté is particularly tasty and will give any omelet a distinct flavor.
For best results when making omelets, we recommend using a non-stick pan.  Since omelets tend to cook quickly, it is recommended to prepare your ingredients ahead of time so they are ready to be folded in when the eggs begin to set. Top your ingredients with your favorite cheese, fold egg over, and enjoy!
3. Pâté Crêpe
By Alex, Milwaukee, Wisconsin
            Ingredients:
1 Cup of milk.
¼ Cup of water
3 Eggs
1 Cup flour
2 Tablespoons of butter melted
1 Tablespoon of chopped thyme
1 Tablespoon of rosemary 
A dash of blackpepper 
Before you start cooking, grease your flat grill or skillet.

Using a hand mixer, combine all of the ingredients into a smooth batter. Pour onto the grill or skillet and heat for one minute on each side, or until desired crispness is achieved. For a savory crepe, spreadon a thin layer of one of our creamy mousses.  For a more filling meal, layer our Truffle Mousse with shredded chicken, asparagus and roasted tomatoes.

Easy and Colorful Spring Cheese Board

Let's face it: Spring calls for more snacks in the park and less stressful cookin' in the kitchen. Enter our easy and colorful Spring cheese board. Here's everything you need to know to craft one and celebrate the season.
Your (Simple) Guide to an Easy and Colorful Spring Cheese Board
First thing's first: You must add color. No exceptions. Be sure to set aside foods like strawberries, blueberries, green grapes— you get the idea.
As to how to go about actually creating the board, here's the rundown. Begin by piling up the savory goods. This includes everything from your favorite cheeses, meats, and pâtés. Add any spreads— like jams and honey— around the board. Afterward, you can add the berries and nuts to fill in all the empty spaces. Best of all, these little guys will also give a beautiful pop of color to the presentation.
At the very end, surround the board with fresh crackers and baguette slices. And just like that, you've got yourself a successful Spring cheese board!
Ingredients
4-6 ounces sharp cheddar cheese, thinly sliced
4-6 ounces brie
4-6 ounces aged gouda
4-6 ounces blueberry goat cheese
4-6 ounces of your favorite coarse cut pâté
4-6 ounces of your favorite mousse pâté
4-6 ounces white stilton with blueberries (blueberry fayre)
3-4 ounces prosciutto, sliced in half
3-4 ounces genoa salami
1 cup hazelnuts
4-5 radishes, thinly sliced
Assorted berries as desired
Green grapes as desired
Raspberry jam as desired
Honey as desired
Seeded french baguette, thinly sliced
Artisan crackers
Women's History Month: Celebrating with Alexian

March is Women's History Month– honoring and encouraging the study, observance, and celebration of women in American history. And this Women's History Month, we're taking a look inward, at Alexian's leadership.

Alexian is a Women Owned Business— certified by the Women's Business Enterprise National Council (WBENC), and is family owned too! Laurie founded the business with her husband and has guided the business through decades of triumphs and challenges. With Alexandra now at the helm serving as the second generation President, the mother-daughter duo are celebrating the company's next chapter and 40th anniversary!

"We're thrilled to have come so far," Alexandra told us. "Our company was started by my father, Ewald Groezinger, in 1982. Although our company turns 40 years old this year, its heritage and recipes are much older than that— and we can't wait to continue on for another 40 more years."

Laurie added, "Even after 40 years, we still love what we do. We take great pride and care in making our products and upholding our family's legacy."

A Little More About Alexian Pâté

All Natural

Alexian has always made a commitment to preparing pâtés and mousses with high quality ingredients that you know and love. We sacrifice nothing but the unpleasantries of preservatives, additives and unnecessary fillers.

Animal Welfare

All meats are sourced from carefully selected vendors who certify that their breeding and raising practices are humane and sensitive to the health and well being of their stock. Depending on the species these practices will include: No administration of antibiotics or growth stimulants; a vegetarian fed diet; , minimal confinement appropriate to healthy growth and safety of the species.

Community Welfare

In addition to Feeding the Hungry in our local community, Alexian is a regular contributor to Food Banks and other nonprofits throughout the USA.


Conservation Practices

Alexian pâtés are packaged in printed cardboard sleeves that carry the seals of the Forest Stewardship Council®, certifying that the sourcing of materials promotes responsible forest management to support local communities. The corrugated cartons used to ship Alexian products are made from recycled materials and printed with water based inks.


No Shortcuts

We consistently deliver high quality products, while providing outstanding customer service. Rather than seeking short term gains, we have adopted a long term perspective in the way we conduct our business.


The Perfect Valentine Pre-Dinner Bite: Pâté with Toast
One of life's greatest indulgences? Toppings on bread.

Simple and delicious, paté with toast is one of the most underrated snacks around. Incredibly flavorful— and easy to whip up— it's a snack that's sure to please family and friends alike. Oh, and did we mention lovers, too?

Yes, that's right: This Valentine's Day, it's all about keeping it low-key and chill— and that means when it comes to cooking, too. Whether you're having a juicy steak for dinner, premium pasta, or ordering in, pâté with toast is the perfect pre-dinner bite to get your belly rumbling for more.

Here's a few recipes you can start off with.

Balsamic Bruschetta

Slice and lightly toast a baguette. Spread a thin layer of our Tomato-Basil Vegan Pâté onto each of the slices and set aside. Combine diced tomatoes and roughly chopped basil in a small bowl. Stir in balsamic vinegar until all pieces are evenly coated. Spoon the mixture onto each slice, and top with a sprinkle of parmesan cheese or fresh, sliced mozzarella. Yum!


Mushroom Bites

As versatile as they are filling, mushrooms are a must-have in the kitchen. To make this delicious toast, simply sauté a few of your favorite mushrooms with sliced onion. Season with salt and pepper to taste. Spread a generous helping of our Black Peppercorn Mousse Pâté onto a toasty baguette, top with the sautéed vegetables, and enjoy!


Fruity Delights

Start with a fresh, lightly toasted baguette. Next, place a moderate layer of peach preserves, followed by a generous layer of Grand Marnier or Pheasant & Rosemary.
Top with a handful of fresh arugula and just a sprinkle of freshly cracked black pepper. Leave it open faced or top it with another piece of baguette. Voila!


 'Tis the Season for Duck Liver Mousse Toast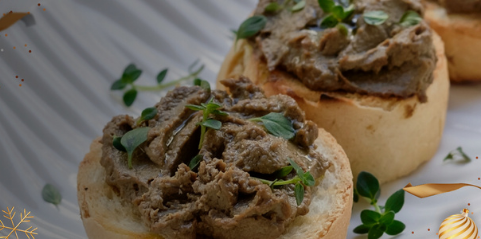 Elegant and delicious, duck liver mousse toast makes for a perfect pre-dinner bite— especially during the holidays when you want to impress your guests. Best of all? It's an incredibly simple appetizer to whip up with few ingredients and easy preparation.
From the ingredients to the instructions, here's everything you need to know about crafting this scrumptious snack.

Ingredients for 1 Serving:

2 tablespoons unsalted butter
2 sprigs thyme plus ½ tsp. fresh thyme leaves
1 ½ ounces Duck Liver with Pork Mousse and Cognac
Kosher salt and freshly ground black pepper (to taste)
1 slice of toasted bread

Instructions:

Heat butter and thyme sprigs in a small skillet over medium heat, swirling occasionally until butter is melted and starting to brown. This should take around 2–3 minutes.
Season pâté with salt and pepper.
Increase heat to medium-high. Quickly heat the pâté, stirring and basting constantly, until warm and crispy on both sides. This should take around 30–45 seconds.
Transfer pâté to toast, drizzle with some butter from the skillet.
Scatter thyme leaves over.

How to Whip Up a Show-Stopping Beef Wellington

Ah, Beef Wellington. 

A holiday staple across the U.S. and England, there's nothing as deliciously comforting as a juicy beef tenderloin wrapped in layers of pâté, duxelles (a finely chopped mushroom mixture), ham, and crispy puff pastry. While the origins of this famous dish are unknown, what we do know is that it's sure to impress guests at your next dinner party. That said, where does one even begin on this not-so-easy (read: incredibly complex) recipe?

Below, we break down our go-to recipe for crafting a show-stopping Beef Wellington from the inside out. 

Ingredients:
2lb Beef Fillet 
Salt and Ground Black Pepper
2 Tablespoons Olive Oil
1lb Mushrooms (a Mix of Cremini, Oyster, Shiitake, and Baby Bella Mushrooms)
1 Package Duck Liver and Pork Mousse with Cognac or 1 Package Truffle Mousse
10 Thin Slices of Ham or Prosciutto
2 Tablespoons Yellow Mustard
2 Sheets of Puff Pastry
6 Egg Yolks— Beaten
Instructions:
Season beef fillet generously with salt and pepper.
Place a cast iron skillet over high heat. Once hot, add two tablespoons of olive oil and sear the fillet on all sides until well browned. 
Once the fillet is golden brown, remove it from the pan and place it on a plate to let it cool. Drain excess fat from the pan.
Once cooled, brush the fillet on all sides with yellow mustard.
Finely chop the mushrooms and add them to a food processor to purée.
Add the mushrooms to the pan on medium heat. Cook, stirring often and allowing the mushrooms to release their moisture. You will have to cook them for about 5-8 minutes; the end result should look like a mushroom paste.
Remove the mushrooms from the pan and set aside to cool.
Once cooled, mix in the Duck Liver Mousse or Truffle Mousse into the cooked mushrooms. Stir well to combine.
Top the surface of a chopping board with a large piece of plastic wrap.
Lay out the slices of ham or prosciutto onto the plastic wrap so that they overlap, essentially creating a huge rectangle out of the cold cuts. Spread the mushroom and pâté mixture over the cold cuts.
Place the beef fillet in the middle; roll the mushrooms and ham over the fillet, using the plastic wrap. Wrap it tightly, twisting it at the ends of the plastic wrap to secure. Refrigerate for 20 minutes.
Preheat the oven to 400°F.
Roll out the puff pastry sheets onto a baking sheet covered with parchment paper.
Unwrap the fillet from the plastic wrap and cut it in half so you have two 1lb pieces. Place each piece in the middle of the puff pastry dough sheets.
Brush the edges of the pastry with the beaten eggs.
Fold the pastries around the fillets, cutting off any excess at the ends. Try to limit the overlap.
Place the pastry-wrapped fillets onto a baking pan, seam side down, and brush beaten egg yolks all over the top. Chill for 5-10 minutes.
Brush the exposed surface again with beaten eggs. Score (a.k.a. make shallow cuts) the top of the pastry with a sharp knife slightly. 
Bake at 400°F for 25-35 minutes. The pastry should be beautifully golden when done.
For a medium-rare roast, pull out of the oven at 125-130°F. Be sure to test it with an instant read meat thermometer.
Remove from the oven and let rest for 10 minutes before slicing.
Serve with potatoes, peas, carrots, and a full bodied red wine. Enjoy!