10 Pâté Enthusiasts Share Their Wishes for the Season

The perfect Holiday wish? Well, it depends on who you ask, of course. 

This year, Alexian asked 10 of our most loyal pâté enthusiasts about their wishes for the 2020 Holiday season. The response? Loving, thoughtful feedback that we hope can bring light and cheer to your day—  and the 2020 Holiday season. 

"My wish for this holiday season? May it fill all Americans' homes with joy, your heart with love, and your life with laughter." — Nora S.

"To a healthy, happy, and peaceful New Year." — Alex D.

"As lovely as the holidays can be for many, they can also make some feel down and blue. I know this can be a difficult time of year, and I want you to know that you're not alone. I'm sending you lots of love." — Laura F.

"To an extremely joyful present and a well remembered past. Best wishes for happy holidays and a magnificent New Year." — Kristin C.

"Whatever is beautiful to you. Whatever is meaningful to you. Whatever brings you happiness. May it be yours this holiday season and throughout the coming year." — Ronald C.

"Lots of laughter. Lots of good food. And lots of love. What else is there to life, anyway?" — Rebecca A.

"May your holidays sparkle with moments of love, laughter, and goodwill. Oh, and did I mention delicious food?" — Anne S.

"I'm wishing all my loved ones cookies and cakes and spices and cocoa… When it starts to smell like the holidays, it's hard not to get into the spirit." — Danielle F.

"Our family wishes everyone a joyous holiday season and a new year filled with happiness and hope for a world at peace." — Donald N.

"This Holiday season, it's hard to not wish for health around the world. Times are tough, but together we can all pull through." — Debra T.

Alexian Presents: Original Stuffing Ideas

Stuffing is, without a doubt, one of the best parts of Thanksgiving. Here at Alexian, we like to put our own twist on things, and this seasonal classic is no different. Read on for some of our favorite pâté-inspired stuffing ideas to try in your own home this season:

Mouthwatering Mushroom-Leek

The warm, earthy flavors of mushroom paired with the mild bite of a leek is a classic combination in holiday cooking. Bring those flavors to life in a new way by incorporating our Wild Forest Mushroom Pâté into your classic recipe.

First, make a classic stuffing base. Sauté chopped onions, shiitake mushrooms and leeks until soft. Add the sautéed vegetables to your base mix and add a hearty amount of our Forest Mushroom Pâté. Serve the stuffing as you would normally.

Apple+Duck Delight

Our Duck Rillette has an abundance of flavor, in part to the special blend of spices we add during the slow-cooking process. First, create a cornbread stuffing base, with celery and onion. Next, peel, core and chop three apples. Then combine it all together and bake until golden brown.

Top the cooked stuffing with a layer of our Duck Rillette, and serve.

Turn it into an Appetizer

With hungry guests eagerly awaiting the dinner of the year, you're sure to get the occasional wanderer in the kitchen hoping to score a sample. Don't make your guests wait for the main course! Tease their appetites with a bit of stuffing.

Simply double your classic stuffing recipe (or set some aside if you're making a lot already), then scoop the uncooked ingredients into a lined cupcake pan. Bake until golden brown.

To make each cup more filling, top with something savory, like our Truffle Mousse or our Black Peppercorn Mousse. Top with a dollop of cranberry sauce for an added bite of sweetness.

Decadent Pheasant Rosemary Stuffing

Thanksgiving is a day of indulgence, and what better way is there to spoil yourself than with a decadent gourmet stuffing?

Create a meal to remember by adding our Pheasant Rosemary Pâté – rich with pheasant, pork, and duck meats, rosemary and pecans – to your stuffing recipe!

Simply cut this coarse-cut pâté into small cubes and mix into your stuffing base, along with garlic, shallot, parsley, thyme and (optionally) mushrooms.

As it cooks, the flavors of pheasant and rosemary will blend into your stuffing, giving your whole meal a heavenly taste.

Tips & Ideas for Hosting a Beer Party

It's football season and you know what that means: Beer. Rules. All.

While there's only a handful of ways to drink a beer, there are limitless options for how you can throw a beer party to remember. Here's a handy checklist that will cover the basics you'll need. Cheers!

There are thousands of craft beers currently in circulation across the US.  Seasonal beers or IPAs are an excellent choice for Fall gatherings, especially if purchased from a local brewery.Pumpkin lagers or Oktoberfest beers are also a fun seasonal addition that will be sure to win over the party. 

It's important to remember that beer parties aren't just about… well, beer. 

Presentation is key. Toss out the red solo cups and opt for 16-ounce growlers or Hefeweizen glasses. If you want to channel Oktoberfest, you can't go wrong with boot-shaped glasses (but maybe don't fill them up all the way). 

While decorations aren't too big of a deal when the beer is stealing the show, Fall decor of some sort is a favorable option for a beer party. From haybills and pumpkins (if it's an outdoor party), to fall wreaths and gourds, Fall decor can truly amp up the spirit of your beer-estivities.

Food is important to all social gatherings (and plus, it'll prevent most people from getting too rowdy from alcohol). While chips and pretzels are great for snacking, we suggest giving your party goers something a little more savory and substantial with our vast selection of pâté. While no one pâté is a better beer companion than the other, our coarse cut pâté, like our Grand Marnier and Pheasant and Rosemary Pâté, are our favorites!

Lastly, when it comes to your beer party, fun is what people are going to take away from it. 

Drinking games are a dime a dozen on the internet (or with the right deck of cards) and are easy for anybody to pick up and learn. Outdoor games, like cornhole, are also an easy to play (but never easy to win) October staple. Additionally, music set to the right playlist or station offers the perfect ambience. 

Ultimately, know your audience (if not your beer), offer up the best of snacks (wink wink pâté), and give a toast to make this year's Autumnal beer drinking season one to remember.

Our Favorite Autumn Pâté Pairings

The most beautiful season of the year has arrived, and while we'll all fondly miss the fresh bites and tasty pairings that Summer brings, Autumn has plenty of treats for us.

Enter pâté.

Below, we highlight a few of our favorite Fall foods that go with pâté!

Candy Apples: The ultimate combination of healthy and, well, not so healthy. While an apple swirled with caramel glaze is classic, up your candy apple game with fresh ingredients. After dipping your apple in caramel, try dipping it into a bowl of sugar sprinkled pecans or walnuts for extra crunch on top of your crunch. If you prefer an apple without the candy component,, pair it with pâté and cheeses for a filling snack.

Pumpkin Seeds: Roasted with everything— from salt to cinnamon sugar, to jalapeno cheddar—

 you can spruce up a charcuterie board with more than just crunchy crackers. If homemade, you also get a pumpkin to keep (and carve!). There's no better way to celebrate Fall than with a beautiful charcuterie board with pâté and seasonal accompaniments. 

Apple Cider: Beer and pâté are a match made in paradise, so why not apple cider? (Bonus points if your batch includes alcohol.) The sweet and acidic flavor of cider meshes well with the savory taste of most  pâtés, especially our Duck Liver Mousse.

When it comes to the perfect Fall pâté, we honestly can't choose (sorry!). When given the right combination, all styles of pâté can be an ever enjoyable Autumn snack.

Easy Living: Effortless No-Cook Meals

A wise person once said, "The best meals are the ones I don't have to cook myself."

Okay, that person was more lazy than wise, but we're lying to ourselves if that simple fact isn't true. Sometimes, food you don't have to cook is the absolute best— and no, we're not just referring to take-out.

Below, check out our favorite no-cook meals.

Cold Cut Salad. If you think salads are basic, wake up your imagination! From fruits to veggies, to caesar dressing to buffalo ranch, your heaping serving of salad is as flavorful as your mind allows. Cold cuts and cheeses are great companions to veggies of all kinds.

Greek-Style Yogurt and Deli Meat Stuffed Peppers. Yes, that's a leap from salad— but it's no less complicated and can be a nice substitution for a sandwich. Grab big bell peppers, slice them in half and spoon out the seeds. Then, spread a thin layer of yogurt on the inside of the pepper before adding your choice of meat and cheese (any type will do, as there is no rulebook for this sort of thing, is there?). Add a little more yogurt, cheese and spices or herbs on top to finish it off. As a bonus, you can add as many smaller veggies as you can fit for more eye-popping flavor combinations.

Lunch Kebabs. If those two words alone don't inspire you to rummage through your fridge and see what you can spear onto a pointy stick, here's some inspiration: lunch meat (your choice), veggie (preferably the tangy, flavorful kind, like an olive or pepper), crusty bread(like a piece of sourdough), and cheese (your choice).

There's no denying the ultimate no-cook meal: pâté. Pâté is delicious, and adventurous yet simpleespecially when combined with a nearly limitless amount of sides. Got cucumbers? You've got something to smear pâté over. Hamburger buns, but no patties? Who needs them when you've got pâté! Something crunchy like crackers? Bring it over and get to munching.

The Perfect Burger For The Perfect Pâté

With summer comes thousands of grills– freshly cleaned and ready for igniting. And while grills bring to mind everything, from ribs to hot dogs, one food item stands above all as number one: the hamburger.

While most people buy a 10-pack of patties from the grocery store, the ultimate burger doesn't come prepackaged. Enhanced with pâté and a number of other savory ingredients, check out our how-to-guide on how to steal the show at your next cookout.

What You Need:

1 tsp of Worcestershire sauce (because flavor is where it counts).
1-2 lbs of ground beef (can be substituted with ground turkey)
1 egg
Salt/pepper
Ground onions
1 clove of minced garlic
1 tsp of Dijon mustard
Buns Pro tip: When choosing the buns, personal preference is a must. Aside from catering to any gluten allergies, your #1 concern should be how fluffy the bread is. Too fluffy and it detracts from the burger. Too thin and it gets soggy.
Truffle Mousse. While we recommend our Truffle Mousse selection for this particular recipe, you can get creative and use just about any other Pâté we have!

What to Do:

Whisk egg in bowl.
Add all ingredients (minus the buns, beef, and Truffle Mousse, of course) and then stir.
Add in ground beef and mix.
Form patties made from between 5 to 6 ounces of ground beef. The patties shouldn't be wider than your intended buns.
Press your thumb into the center of the meat (this will help the patty stay round while grilling.)
Grill time! Make sure to preheat and cook between medium and medium/high (don't be tempted to go right to high).
Flip burgers so that they don't stick, while periodically adding a dash of salt and pepper. (Reminder: if you want a juicy burger, don't press down on it with your spatula! Doing so doesn't help the meat cook any faster.)
Put your burgers onto your buns and then, for the ultimate topping, smear your Pâté over the meat or onto the bun.
Enjoy!

Introducing Easy Peel Packaging

Alexian Pâté slices are now easier to open! After removing the outer sleeve, the inner package can be peeled apart for an effortless and cleaner opening. You no longer need a knife and scissors to enjoy Alexian Pâté. Mousse lovers rejoice!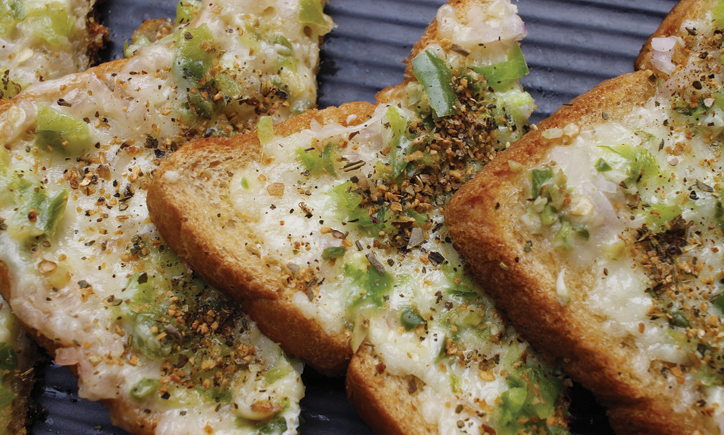 With much of the country sheltering in place, your evenings may be starting to feel the same. We have just the thing to change them up while you're streaming movies or playing board games with the family. 
Here, we have three fun and (mostly) healthy snack recipes with a focus on simplicity. These snacks are worth the effort, and whether alone or with family, you'll pass these nights by with extra flavor.
Baked Banana Chips
Ingredients:
Three large bananas (for a serving size that accommodates 2-3) 
Cinnamon (can be swapped out with sea salt) 
3 tablespoons of orange juice (can be swapped with 2 tablespoons of lemon juice) 
Instructions:
Preheat oven to 250?
Chop bananas into little "tokens". 
Dip each token into the orange or lemon juice, and follow withthe cinnamon or sea salt. 
Place on pan and bake at 250 for about 2 hours (cook until crispy, and make sure to flip them at least once).
Enjoy!
Cheese Stuffed Jalapenos
Ingredients:
6 large Jalapenos (Reminder: one jalapeno makes two stuffed jalapenos. Adjust according to desired amount)
An 8 ounce package of cream cheese
¼ cup of shredded cheese
Garlic powder, Cayenne Pepper, and/or Onion powder, depending on preference. Most seasonings can be used for extra flavor. Get creative!
Instructions:
Cut Jalapenos length-wize and hollow them out of seeds and membrane. Then boil Jalapenos in hot water for about ten minutes. (Depending on how spicythey are, you can boil them for longer to make them mild. If you want them extra spicy, boil them for only three minutes).
Mixall of the other ingredients in a large bowl.
Fill the Jalapenos with cheese and then place on a large cooking sheet.
Bake at 400? for 5-10 minutes depending on how many jalapenos have been used.
Bonus: Cook bacon strips and wrap one around each cooked pepper!
Chef's Tip: You can swap out the cheese with pâté for an even more delicious treat!
Garlic Bread
Ingredients:
One loaf of French Baguette
Butter
Grated Cheese of any type (we prefer Parmesan, or cheddar)
Garlic Powder
(Optional): Parsley
Instructions:
Half the baguette  and cut into an even number of slices.
Smear butter on each slice, followed by the garlic powder (as well as the parsley flakes if using) and finally the cheese.
Place on cooking pan and bake at 350? for 10 minutes or until golden brown.

While those three delicious snacks can each stand alone, why not get festive and make all three? Better yet, each one of these recipes is delicious with a spread of Alexian Pâté. It's no secret that pâté is the ultimate combination food and the secret formula to make your ordinary night one to remember.
How To Make The Best Caramelized Onions to Top Your Pâté (Or Everything)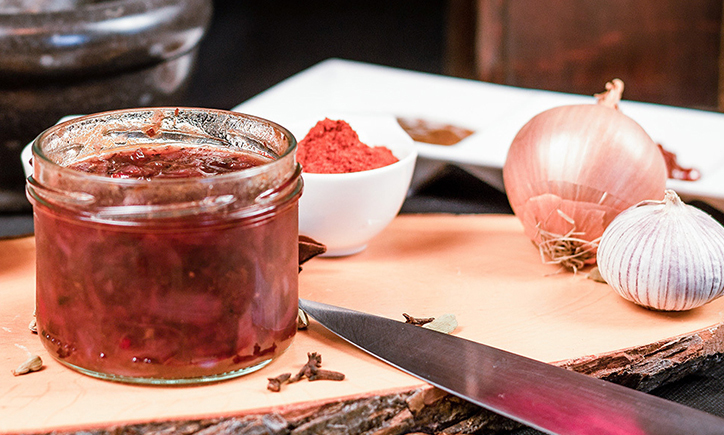 Caramelized onions is one of the most versatile add-ons around; it goes great with nearly everything (sort of like a certain pâté). While the flavor of caramelized onions is certainly a complex one, the recipe to make it is surprisingly simple.

What you need:

• Three or more red onions medium to large. (Onion type can be swapped out if necessary).
• 1 tablespoon of brown sugar.
• Butter (can be swapped out for olive oil).
• Your finest skillet (and a stove or grill to cook upon).

Instructions:

• Peel the onions, cut off the stems, and then halve them. Lay the halves down on their flat side and then begin cutting them; you can choose how thick or thin to make your slices (we believe thinner slices make for a better spread).
• Melt butter in skillet on medium temperature and mix in onions.
• Stir a tablespoon of brown sugar (this is both for flavor and to allow the onions to caramelize faster).
• Lower temperature to simmer and stir on and off for the next twenty to thirty minutes. The longer you cook the onions for, the more caramelized they will become. Note: cooking at a higher temperature will only result in burnt onions, not faster caramelization.
• Enjoy with Alexian Pâté!

Pâté and Potatoes: Our Favorite Foods Paired Together

Winter might soon be over, but that doesn't mean the cold months are long gone. In fact, even though spring arrives in less than three weeks, most of us are still seeking the warmth of a cozy home and tasty comfort food.

Enter potatoes and pâté.

Perhaps the ultimate comfort food, potatoes can be paired with pâté to create the perfect meal when seeking solace from the low temperatures. Here, we highlight several recipes that are sure to bring a pleasant twist to staples of your winter (meets-spring) diet.

Mashed Potatoes with Truffle Mousse

What you need:
1 1/2 lb Yukon gold potatoes, peeled and quartered
1/2 teaspoon salt
4 tablespoons heavy cream
2 tablespoons butter
1 tablespoon milk
Salt and pepper to taste
3 tablespoons Alexian Truffle Mousse

Directions:
Place the peeled and cut potatoes into a medium saucepan. Add cold water to the pan until the potatoes are covered by at least an inch. Add half a teaspoon of salt to the water. Turn the heat on up high, and bring the water to a boil. Reduce the heat to low to maintain a simmer, and cover. Cook for 15 to 20 minutes, or until you can easily poke through them with a fork.

While the potatoes are cooking, melt the butter and warm the cream. You can heat them together in a pan on the stove or in the microwave. When the potatoes are done, drain the water and place the steaming hot potatoes into a large bowl. Pour the heated cream and melted butter over the potatoes. Then use a potato masher or strong wooden spoon to beat further. Add milk and Truffle Mousse and beat until the mashed potatoes are smooth. Don't over-beat the potatoes lest they become gluey. Add salt and pepper to taste.

Baked Potato with Chicken and Veal Pâté

You will need:
Large russet potatoes
Canola oil to coat
Salt
Optional toppings, such as butter, sour cream, shredded cheddar and/or scallions
Alexian Black Peppercorn Mousse

Directions:
Heat oven to 350 degrees and position racks in top and bottom thirds. Wash and dry the potatoes, then using a standard fork poke 8 to 12 deep holes all over the spud so that moisture can escape during cooking. Coat the potatoes lightly with oil. Sprinkle with kosher salt and place potato directly on the rack in the middle of the oven. Place a baking sheet on the lower rack to catch any drippings.

Bake 1 hour or until skin feels crisp but the flesh beneath feels soft. Serve by creating a dotted line from end to end with your fork, then crack the spud open by squeezing the ends towards one another. It will pop right open. But watch out, there will be some steam. Add toppings if using (optional). Place a tablespoon or two of mousse on top of each potato.

Scalloped Potatoes with Pâté

You will need:
4 cups thinly sliced potatoes (Yukon Gold or Russet)
3 tablespoons butter
3 tablespoons flour
1 1/2 cups milk
1 teaspoon salt
1 dash cayenne pepper
1 1/2 cups grated sharp Cheddar cheese, divided
Paprika to taste
Alexian Grand Marnier Pâté

Directions:
Preheat oven to 350 degrees. Grease a 1.5-quart baking dish (8×8 or 9×9 inch baking dish will work). In a small saucepan, melt butter and stir in flour. Whisk in the milk and season with salt and cayenne. Cook sauce on low until smooth and boiling, stirring occasionally with a whisk.

Reduce heat and stir in 1 cup of the cheddar cheese. Place half of the sliced potatoes in the baking dish. Pour half of the cheese sauce over potatoes. Place thin slices of the pâté on top of the cheese. Repeat with the second layer of potatoes and cheese sauce. Sprinkle the remaining 1/2 cup of cheddar cheese on top and dust with paprika for color. Bake uncovered for about 1 hour at 350 degrees.