Expand your Breakfast Horizons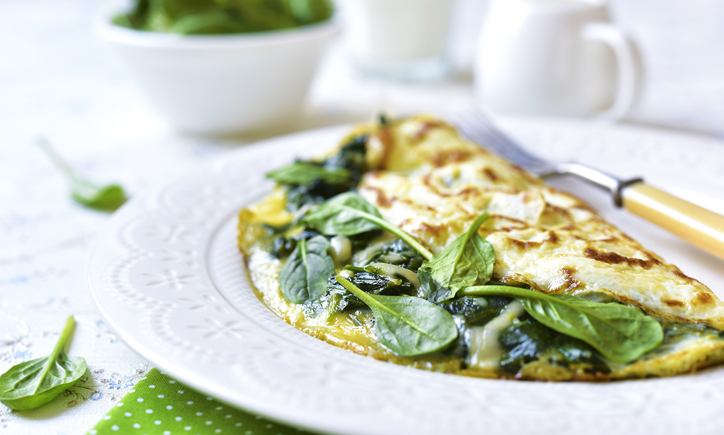 Breakfast is an important start to your day and yet, many people either skip it or go for unhealthy options. Busy mornings means often reaching for cereal or other unfulfilling options that just leave you with a sugar crash in a few hours. You'd be surprised how many wholesome breakfast ideas require very little effort when put into practice. Here are some tips and easy recipes to try.

First, go for whole wheat options when looking for breakfast bagels and muffins. There are many protein-rich options to use as a spread such as peanut butter or almond butter. Top with a chopped banana and chia seeds.. Chia seeds are packed with vitamins and minerals (almost six times more calcium than milk!). Go for a savory route by using cheese and one of our coarse cut pâtés. Incorporate healthy fats such as eggs and avocados. Give your avocado toast a kick with any of our mousses. Give oatmeal a new flavor by making it savory. Prepare as usual with milk or water, but add a pinch of salt and pepper instead of any cinnamon or sugar. Then top with an over-easy or poached egg and sprinkle on a little cheese for an extra tasty treat. For maximum flavor add a touch of our pâté on top. Making scrambled eggs or an omelet? Any of our vegetable pâtés will make an excellent addition.

In a rush? Smoothies make a great portable breakfast full of fruit (and sometimes vegetables!) and other healthy ingredients of your choosing from honey to almond milk to chia seeds. Or go for a smoothie bowl where you can layer fruit, nuts, and more on top.

Food is fuel, and after being asleep all night, we need a major refill come morning. Try these healthy options and watch your energy and mood go up.

Everything you Need to Know About En Croute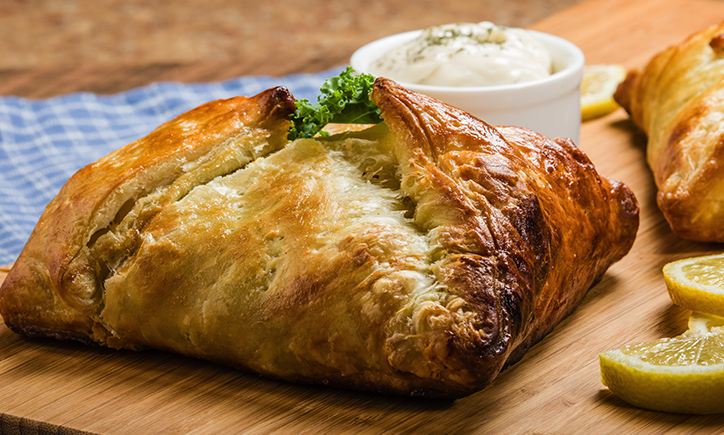 When you're hosting a party or just inviting some friends over for dinner, you want delicious, simple recipes that people don't expect or don't see a lot of. That is why en croute is a perfect idea for hosting. En croute is a dish that has been wrapped in pastry dough and then baked in the oven. It's incredibly versatile and a favorite of many. You can stuff the inside with any item of your choosing. Salmon, beef, and brie are popular choices.

The wrapping is usually created with either puff pastry or straight pastry dough. Puff pastry is more commonly used. It's made by folding and rolling pastry dough to create many layers that will puff up when cooked. Straight pastry dough remains flat and thus, is usually the less desired choice. Cooking times vary depending on how long it takes the dough to get a nice golden crust and depending on what is inside.

For now we will focus on pâté en croute which, as you can guess, is pâté wrapped in the puff pastry. First start with the pastry dough. You can buy pre-packaged puff pastry sheets to save on time. Make sure to let it thaw in the fridge overnight as you cannot work with it when it is frozen. Roll it open on a floured flat surface and make sure to not let it get too warm as it becomes sticky and harder to manage.

Then pick the pâté of your choosing. Chicken and Veal Pâté or Pheasant and Rosemary Pâté are popular choices. Divide them into portions that fit the sheet. Don't fill it up too much as it may make the dough soggy. Leave a one inch border around each filling (you can use a ruler if you wish) and cut around that. Then take the sides and press lightly to make a cover for the contents inside. Prick the surface lightly with a fork, a technique called docking, which allows the pastry to release steam as it bakes. Brush the puff pastry with an egg wash prior to baking for a more golden colored finished product.

Bake following the directions on the puff pastry packaging, or until the crust is a golden brown. Serve to guests and brace yourself for recipe questions!

Vegan recipes with Alexian Pate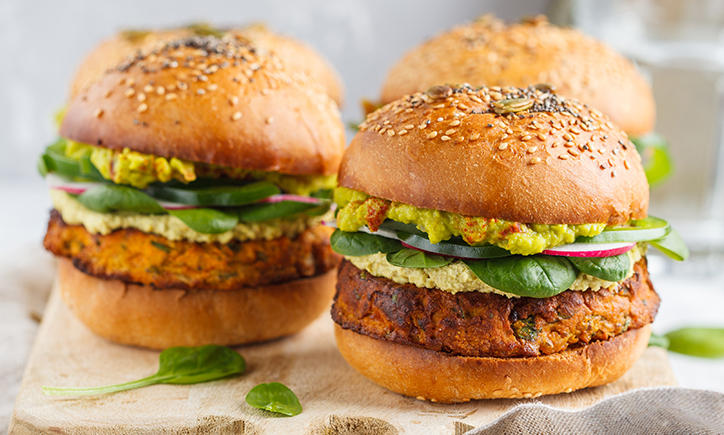 What do Coretta Scott King, Sinéad O'Connor, "Weird Al" Yankovic and Albert Einstein all have in common? They all are (or were) vegans. A vegan is someone who does not consume animal products. Just as vegetarianism has come into the mainstream, veganism is also gaining in popularity.

If you're not ready to give up your bacon or burgers or Buffalo wings quite yet, that doesn't mean you can't try some vegan recipes. The following recipes are so tasty, you won't even miss your beloved meat.

Think that veggie burgers can't compare to their beefy counterparts? Think again! Once you make sweet potato and black bean veggie burgers, you'll be a believer. Finish the burger with a smear of our vegan Tomato Basil or Curry and Bell Pepper pâté, and it will be hard to top!

Who says a sandwich has to be filled with meat? Try a vegan BLT where the "B" is eggplant bacon, which is simply thin slices of eggplant roasted to a smoky flavor. Since mayo has eggs, substitute it with one of our spreadable vegan pâtés instead.

Pull a switch on pulled pork with jackfruit. Its texture is similar to that of shredded pork. Toss with some barbecue sauce, spread some vegan pâté on the bun, and you've got yourself a succulent and substantial sandwich.

Avocado toast is trending now, but herbed mushroom toast is making its mark. Spread garlic toast with our Earthy Mushroom Pâté for a new toast taste sensation!

Roasted brussels sprouts have gained in popularity, but they're often made with pork or bacon. For a vegan spin on Brussels sprouts with all the flavor but none of the meat, swap out pork with our vegan Tomato Basil Pâté.

Craving a quesadilla? Hold the cheese! For a vegan version, substitute cheese with hummus or one of our vegan pâtés.

Pass the pasta… and pass on the meat. Make mouthwatering mushroom ravioli using our Earthy Mushroom Pâté as a delicious shortcut for the filling. Stuff shells with our Tomato Basil Pâté, then smother in a vegan pesto sauce.

3 Unexpected Valentine's Day Recipe Ideas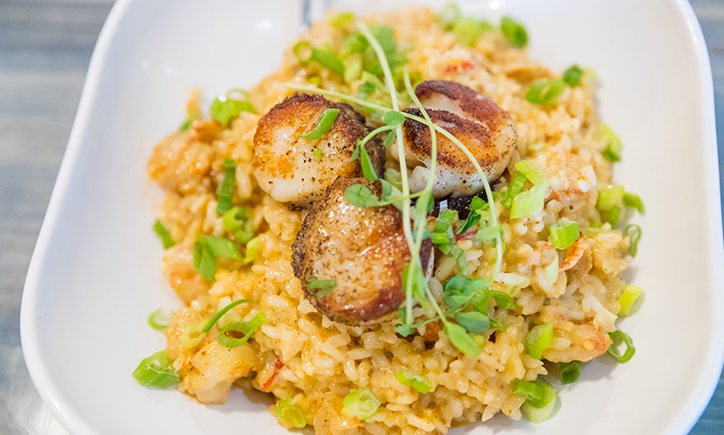 The element of surprise is what makes special occasions extra special. A surprise party on someone's birthday. A surprise visit from an adult child on Mother's Day. Or a surprise meal on Valentine's Day.

You can take the surprise a step further by offering up a nontraditional meal. Sure, you can cook your partner's favorite meal. Or go for the tried-and-true such as Chateaubriand. Or, you could serve something totally unexpected, like the three recipe ideas that follow.

Our first suggestion is Home-Style Meatloaf. Meatloaf? Really? Really.

Think about it: Nothing evokes more affection than a home-cooked meal, prepared lovingly just as mother or grandmother did. Meatloaf is a perfect way to bring back fond memories – and create new ones. If you want to put your own special twist on the recipe (and add yet another surprise), stuff the meatloaf with mashed potatoes, mushroom pâté or chopped spinach, for example. And if your significant other is a huge fan of pâté, you can find recipes that make an entire meatloaf out of it! Plus, you can find vegetarian and vegan options as well.

While you may not want to over-imbibe on Valentine's Day, it's OK if your main dish gets a little tipsy. Drunken Spaghetti is a perfect choice and, as you may have suspected, it's cooked in red wine. This recipe calls for Sangiovese wine, which gives the pasta a rich flavor and a romantic purple-red hue. For added richness, finish the dish with small spoon of our Duck Rillette.

Just because you decide to stay in on Valentine's Day doesn't mean you have to forego the fancy restaurant-style meal. This recipe for Seared Scallops with Butternut Squash Risotto is as gourmet as you can get! The key here is to carefully, quickly sear the scallops. On the other hand, you'll have to be more patient with the risotto, which takes some time and attention. But, in the end, it's well worth the effort.

Add a little music, warm candlelight and a good bottle of wine to any of the above entrées and you've got the makings of a most romantic evening.

Pâté and pastry: new recipes to entertain during the holidays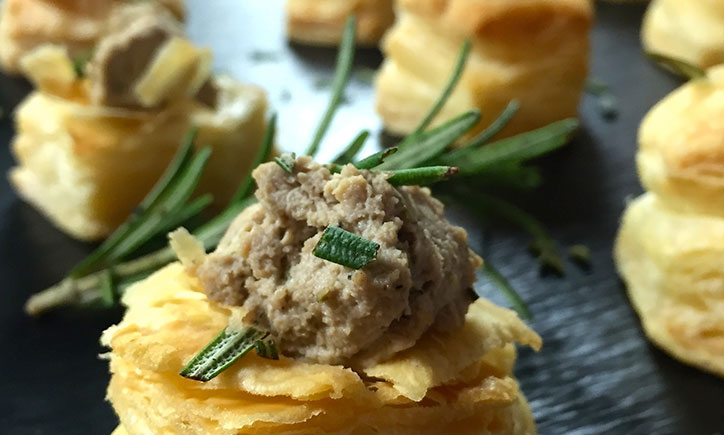 Whether you're entertaining during the holidays or any time of the year, pâté and puff pastries are two foods that add an element of elegance to the occasion. And, when you combine the two, you've got an appetizer that's certain to impress.

Puff pastries appeal to all the senses. They look like perfect little packages, each one filled with a tasty surprise. The outside is buttery and flaky, and the inside is typically a rich, creamy consistency.

This recipe for chicken bundles is a perfect example. The recipe uses premade puff pastries and only four main ingredients for the filling — chicken, artichoke hearts, cream cheese and green onions — so it's incredibly easy to make. For an even simpler recipe, fill the puff pastries with our Grand Marnier pâté. Voilà! An instant hit!

For cheese lovers, brie is always a favorite. Sure, you can just slather on some raspberry jam and call it a day, or you can add dried cranberries, slivered almonds and enwrap it in puff pastry. Serve this Holiday Brie En Croute ("en croute" means "in a pastry crust") with our specialty crackers.

Asparagus spears wrapped in puffed pastry spirals are pleasing to the eye and the palate. Prosciutto or ham adds a little "bite" but can be omitted for a vegetarian version. Platter the spears with our truffle mousse for an irresistible appetizer.

Individual puff pastry tartlets look like little stars, and they'll be the star of your holiday spread. These Eggplant Parmesan Tartlets are a great twist on the Italian classic. Or, fill the tartlets with our Duck Liver Mousse with Cognac for a more sophisticated (and easy) appetizer.

For these Puff Pastry Holly Leaves, you'll need a holly leaf-shaped cookie cutter and frozen puff pastry, plus pimiento for the "berries." In this recipe, the filling is cream cheese, feta, pesto and seasonings. But you can make your own culinary creation by filling with the pâté of your choice.

This holiday, start with puff pastry then add pâté and a little imagination. You'll be on your way to crowd-pleasing holiday appetizers.

Cheese Boards with Turkey, Ham, Pâté, and Cheese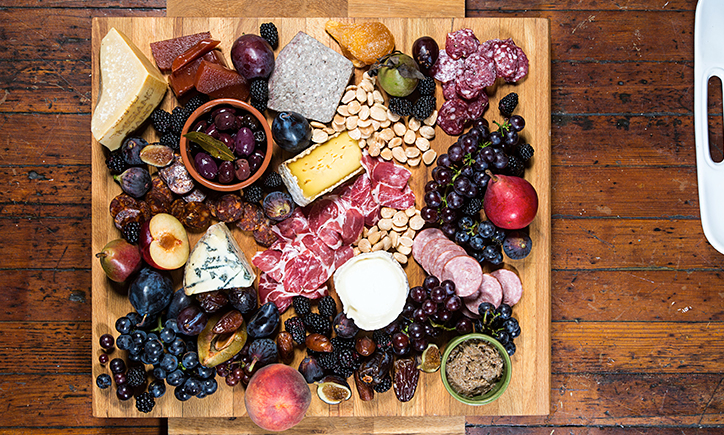 What comes to mind when you think about putting together a cheese board? It's probably cheeses, grapes or other fruit, a variety of crackers and maybe a little mustard on the side.

For a truly impressive cheese board, add charcuterie and pâté to the list. With beef, ham, sausage, turkey plus vegetarian and even vegan pâtés, you'll have something for everyone. Plus, you'll please those who put a priority on protein in their diet.

So where do you begin? First, you need a board that's large enough to hold all the goodies. Don't have a cheese board? A cutting board will do. Or any oversized serving platter. For a sophisticated presentation, use a slab of marble (just keep in mind that this will be heavy, so you may want to prep it where you'll actually be serving it).

Start by selecting your cheeses. You'll want to serve a variety of textures, from soft to hard, and a variety of flavors. Don't forget that not all cheese is made from cow's milk; expand your horizons with cheese made from the milk of goats or sheep.

Next, choose the charcuterie. We hate to tell you, but pepperoni is so yesterday. Instead, go for hard, cured sausages rich with flavors such as savory smoky, bold garlic or sweeter fennel. Because bacon is all the rage, you might want to add several crispy strips to your cheese board.

To mix up the texture, include spreadable pâtés on your cheese board. Choose from a variety of meats such as chicken, pork, veal, duck and pheasant. Vegetable pâtés can feature eggplant, mushrooms, roasted peppers or other veggies. And, yes, vegan pâtés are available, too.

Think outside the cracker box when choosing your carbs. Breadsticks, sliced baguettes, pita chips and gluten-free nut crackers are good choices. Be sure to offer a few herbed oils for dipping.

Don't overlook the details; it's all the "extras" that make a cheese board extra special. Consider salty olives, crunchy nuts, sweet dried fruit, tangy chutney. For a finishing touch, garnish with sprigs of parsley or other herbs.

A few rules of thumb:
• Serve cheeses and pâtés at room temperature
• Arrange the cheeses from mild to bold
• Label the items so guests know what to expect

Lastly, be sure to have both red and white wine on hand, as well as non-alcoholic options such as sparkling cider. Then pour yourself a glass and relax; you'll soon be busy accepting compliments from guests on your eye-pleasing and mouth-watering cheese board.

European-inspired comfort food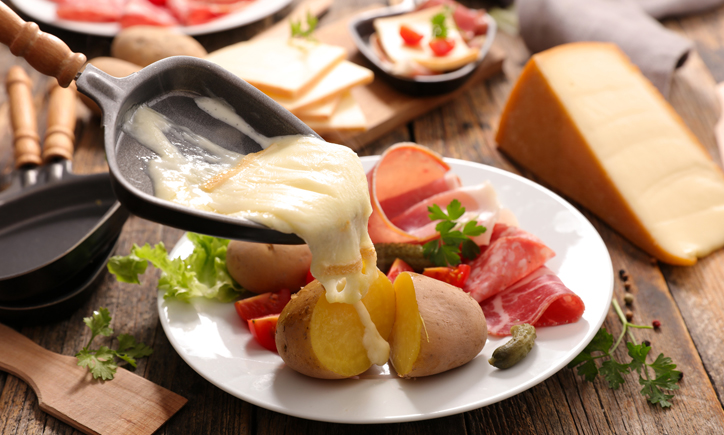 In America, traditional comfort foods include chicken soup, macaroni and cheese, meatloaf and mashed potatoes, grilled cheese and cream of tomato soup, and of course, ice cream (straight from the container). Southerners can't get enough grits, fried chicken or biscuits and honey.

In Europe, comfort foods range from the universal — pizza, French fries — to more regional-based favorites. Of course, in England your fries will be served with deep-fried codfish, better known as fish and chips. And while waffles and ice cream may be a go-to comfort food in the U.S., in Belgium the topping is more likely to be chocolate, of course.

Residents of the Czech Republic, for instance, will reach for a slice of homemade apple strudel when they're seeking solace from food. Austrians also favor strudel or the traditional wiener schnitzel, a thin veal cutlet that's breaded and fried. In Germany, the closest thing to mac and cheese is käsespätzle; yes, it's made with spätzle, soft, handmade egg noodles often shaped like sparrows. You also can't go wrong with bratwurst (and a stein of beer to go with it). In Ireland, however, you'll be reaching for a pint of Guinness. The Polish people can't get enough pierogi, which are boiled potato or cheese-filled dumplings.

Travel to the Ukraine, and your soup may be served hot or cold — if it's borscht (beet soup), that is. In Hungary, ask for a bowl of paprika-spiced goulash, a hearty stew of beef, potatoes and vegetables.

The Swiss find comfort in raclette, melted cheese that's usually scraped off a griddle and often served with potatoes. In Denmark, yes, there are the Danish pastries. But the comfort food of choice is Smørrebrød, an open-faced sandwich of dark Danish rye bread, topped with shrimp and egg or cured fish. Swedish meatballs are popular in — you guessed it — Sweden. A blend of beef and pork, these meatballs are typically seasoned with nutmeg and ginger. Cravings in Holland are more basic: They go for Gouda on toast. For an even simpler treat, try Gouda on crackers.

In Greece, Moussaka — a dish of eggplant, potato and ground meat, topped with béchamel sauce — is a must. The French love their charcuterie, croissants, crêpes, pâtés, mousses and soufflés. The Spanish pine for paella, a saffron-infused rice dish made with bits of chicken, vegetables, seafood, or all of the above (accompanied by a pitcher of sangria). And it's no surprise that in Italy a common comfort food is pasta. Doughy gnocchi are particularly popular as well.

Take Away Snacks for the Beach that are Practical and Filling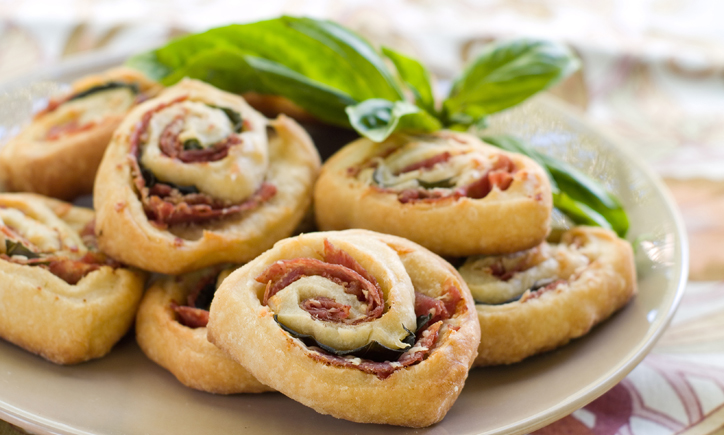 When you go on holiday, the only things you should be thinking about are having the sun on your toes and the wind in your hair. The last thing you want to do is get to the beach and realize your stomach is growling.
We've gathered some of our best and most beach-worthy snacks and lunches to make ahead for smooth-sailing this summer.
Make & Take Veggie Cups
Here's a little secret: pureeing any of our pâtés with a couple of tablespoons of Greek yogurt is an easy way to make a delicious dip, perfect for veggies, pita chips, or cheese.
One of our favorites, the Mushroom & Artichoke terrine, works particularly well. Simply combine the pâté and the yogurt and blend until smooth. Pour evenly into the bottom of 12 oz. plastic cups. Place vegetable sticks directly into the dip – sliced bell peppers, carrots, and celery are all great options.
For more diversity, try it with fresh mozzarella balls, cheddar cubes, cherry tomatoes, pretzel rods, or pita chips!
Upscale Lunchables
Skip the made-ahead lunch packs, and take your own! You'll feel better knowing exactly where the ingredients came from, and you'll feel like a kid again while enjoying cracker sandwiches (isn't that what summer is all about?)
Our new Olive Oil & Sea Salt Crackers are made of purely simple ingredients – exactly what you want for your kids and yourself.
• Proteins: coarse cut pâtés, like our Chicken & Veal Pâté , deli turkey, ham, or salami
• Cheeses: Cheddar, Swiss, American or sliced pepper jack
• Veggies: Hummus, sliced cucumbers, tomatoes or avocados.
• Spreads: Hummus, tzatziki, mustards, or one of our mousses, like our Truffle Mousse, for a creamy touch
Pinwheels
We all remember our parents making us pinwheels for lunch during the summer. Somehow, they were just more fun to eat than a regular sandwich or wrap. Now it's time to bring them back. Simply fill your favorite wrap with your favorite sandwich components, roll-up tightly and slice into bite-sized pieces.
Using more elevated ingredients such as spinach wraps, grilled veggies, and of course, our decadent pâtés, make them perfect for a simple yet sophisticated beach lunch. One of our favorite combinations is our Truffle Mousse, with grilled onion and shredded smoked gouda.
And for the kids? Go classic with peanut butter and jelly pinwheels or try something new and fun. We love pizza pinwheels – a classic tortilla wrap with pepperonis, shredded mozzarella and just a touch of marinara (we don't want them to be messy!).
Summer Sides
Sometimes you need a little something between lunch and dinner. We want to share some of our favorite snack recipes from some of our friends across the country.
Roasted Chickpeas. Easy to grab a handful of throughout the day, easy to make and easy to love.
Homemade Chex Mix. It's better than store bought, because it's customizable to your personal preferences.
Chocolate Banana Pops. We all need something sweet now and again – these banana pops hold up nicely in a cooler, and are a more healthy alternative to ice cream.
4 Salads, Made Better With Pâté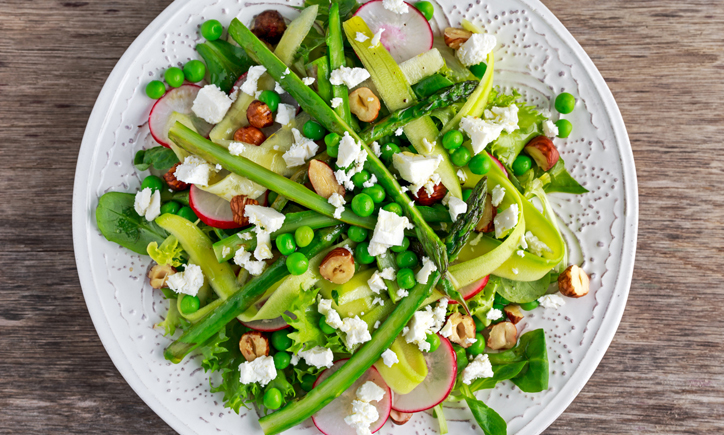 Summer salads are one of life's finer things. When you pair them with another of life's finer things, such as our pâté – it's a pure delight. Some of our favorite summertime combinations are shown below.

Don't feel limited by our recipes, however! Pairing pâté s with fresh fruits and vegetable is easy. We'd love to hear how you enjoy your pâté s in the summertime. Tag us on Facebook or Instagram and share your creations!

Fresh Mango Salad
When we think of summertime salads, we think of bright, fresh flavors. For this salad, we bring together three of the best things about summer: raspberries, avocados, and mangoes. To make it hearty enough for a dinner, we use our Chicken Ballotine. Made from chicken breast and hints of tropical fruits and pistachios, this pâté makes the perfect summertime protein.
Ingredients:

Dressing:
• ½ cup fresh raspberries
• ? cup extra-virgin olive oil
• ? cup red-wine vinegar
• 1 small clove garlic, coarsely chopped
• ¼ teaspoon kosher salt
• ? teaspoon freshly ground pepper

Salad:
• Alexian Chicken Ballotine, cubed
• 1 cup fresh raspberries
• 8 cups of spinach (or salad greens of your choosing)
• 1 ripe mango, diced
• 1 ripe avocado, diced
• ½ cup thinly sliced red onion
• ¼ cup toasted chopped pistachios, optional

Preparation:
1. To make the dressing, puree ½ cup raspberries, oil, vinegar, garlic, salt and pepper in a blender until combined.
2. Divide the greens among serving dishes. Top each plate of greens with ¼ cup of the Chicken Ballotine
3. In a medium bowl, combine mango, avocado, remaining raspberries and onion. Pour the dressing on top and gently toss to coat.
4. Top each with pistachios, and enjoy!

Cranberry Pecan
Tart cranberries, nutty pecans and savory Chicken and Veal Pâté come together to create our go-to salad for hazy summer afternoons.

Ingredients:
• Chicken and Veal Pâté, cubed
• 1 cup pecan halves, roasted
• 2 tablespoons raspberry vinegar
• 1/2 teaspoon Dijon mustard
• 1/2 teaspoon sugar
• 1/2 teaspoon salt
• freshly ground black pepper to taste (optional)
• 6 tablespoons olive oil
• 6 cups mixed salad greens, rinsed and dried
• 3/4 cup dried cranberries
• 1/2 medium red onion, thinly sliced
• crumbled goat cheese

Directions:
1. In a small bowl, stir together the vinegar, mustard, sugar, salt, and pepper; mix until sugar and salt dissolve. Whisk in olive oil.
2. In a salad bowl, toss together the greens, cranberries, pecans, onions, and cheese. Top with the Chicken and Veal cubes. Drizzle with vinaigrette before serving.

Green Goddess
The Green Goddess salad is one that everyone has their own variation of and recipe for. Some people put chickpeas, others put chopped bacon, we use our Herb de Provence Chicken Pâté . The creamy avocado and crunchy fresh greens mesh perfectly with the fresh blend of herbs in our pâté to create a more sophisticated take on the salad.

Ingredients:

• Herb de Provence Chicken Pâté , cubed
• 6 cups spinach
• ½ cucumber, sliced
• 1 ½ cups pea shoots
• ? cup feta cheese
• ½ cup almonds, chopped
• 1 avocado, cut into chunks

Directions:

Combine and toss the ingredients, top with your favorite Green Goddess dressing. You can find one of our favorite recipes, here, if you'd like to make your from scratch!

Caprese Salad
Caprese salad are almost synonymous with summer – light, refreshing and filling, the classic combination of basil, tomato and mozzarella is always a good choice. Our rendition gives the traditional salad a modern twist – using our Tomato Basil Pâté and a handful of fresh spinach.

Ingredients:

• Alexian Tomato Basil Pâté , sliced
• 8 oz. fresh mozzarella, sliced
• Balsamic vinegar or dressing

Alternate placing slices of Tomato Basil and mozzarrella on a plate. Drizzle with your choice of balsamic and garnish with fresh basil.

How to Use Your Garden Herbs & Spices with Alexian Pâté

Spring is certainly in the air – and in our world, that means eagerly anticipating the smell of fresh herbs wafting through your window. You've planted your garden and now it's all a waiting game. If you're anything like us, you're counting down the days until you can bring your homegrown herbs in and incorporate them into your dishes. Using garden-grown herbs is not only more satisfying, but so much more convenient than having to remember to grab some from your local grocery store.

What could be a better pairing than Alexian's homemade, hand-crafted pâtés? We've put together some of our very favorite combinations for you to test yourself.

Thyme
Thyme is a classic herb, wholeheartedly loved by professional chefs and amateur cooks alike. That's why it's a staple in most kitchens and gardens.

Perfect Pâté Pairing: Pheasant Rosemary

What We Love About the Combination: Thyme's slightly minty aromatic properties give depth of flavor to even the most basic of dishes, and provides a classic complement to the rosemary in our pâté.

Cilantro
Cilantro is easy to grow, and easy to use. You can pile it on tacos, add it atop butter chicken or drop it on top of a bowl of ramen or bibimbap. So why not enjoy it with pâté?

Perfect Pâté Pairing: Grand Marnier

What We Love About the Combination: Cilantro is famously diverse – popping up in cuisines as different and far-reaching as Indian, Thai and Mexican. Cilantro has a bright, almost citrus-y profile, so it works to bring out the notes of orange in our Grand Marnier pâté.

Parsley
It seems like all of our favorite dishes call for parsley – so it's no surprise we try our best to incorporate it in new ways. Parsley has a unique ability to brighten almost any dish.

Perfect Pâté Pairing: Duck Rillette

What We Love About the Combination: The rich, gamey flavor profile of our Duck Rillette benefits from the brightness parsley provides. Similar to adding a hint of lemon juice to a heavy sauce – we love using parsley to balance our bolder pâtés. Add a handful of leaves into your sandwich in place of lettuce, and savor every bite.

Basil
A classic in Italian cooking, fresh basil has a strong, sweet smell and subtle peppery taste. It's perfect when paired with tomatoes, mozzarella, and red peppers – staples of our summer kitchen.

Perfect Pâté Pairing: Tomato Basil Pâté

What We Love About the Combination: There's no such thing as too much basil – especially when it comes to pairing cooked-in basil with fresh leaves. This combination makes for a great, one-bite skewer when paired with cubes of our pâté, leaves of basil and mozzarella balls.

Chives
Chives are related to scallions – with a subtle onion-y flavor. While scallions are more often used in cooking, chives make a great garnish for adding a little crunch and a slight note of onion.

Perfect Pâté Pairing: Black Peppercorn Mousse

What We Love About the Combination: Our mousses have a smooth, spreadable texture, so they benefit from a pairing that adds a bit of crunch.