Pâté and Potatoes: Our Favorite Foods Paired Together

Winter might soon be over, but that doesn't mean the cold months are long gone. In fact, even though spring arrives in less than three weeks, most of us are still seeking the warmth of a cozy home and tasty comfort food.

Enter potatoes and pâté.

Perhaps the ultimate comfort food, potatoes can be paired with pâté to create the perfect meal when seeking solace from the low temperatures. Here, we highlight several recipes that are sure to bring a pleasant twist to staples of your winter (meets-spring) diet.

Mashed Potatoes with Truffle Mousse

What you need:
1 1/2 lb Yukon gold potatoes, peeled and quartered
1/2 teaspoon salt
4 tablespoons heavy cream
2 tablespoons butter
1 tablespoon milk
Salt and pepper to taste
3 tablespoons Alexian Truffle Mousse

Directions:
Place the peeled and cut potatoes into a medium saucepan. Add cold water to the pan until the potatoes are covered by at least an inch. Add half a teaspoon of salt to the water. Turn the heat on up high, and bring the water to a boil. Reduce the heat to low to maintain a simmer, and cover. Cook for 15 to 20 minutes, or until you can easily poke through them with a fork.

While the potatoes are cooking, melt the butter and warm the cream. You can heat them together in a pan on the stove or in the microwave. When the potatoes are done, drain the water and place the steaming hot potatoes into a large bowl. Pour the heated cream and melted butter over the potatoes. Then use a potato masher or strong wooden spoon to beat further. Add milk and Truffle Mousse and beat until the mashed potatoes are smooth. Don't over-beat the potatoes lest they become gluey. Add salt and pepper to taste.

Baked Potato with Chicken and Veal Pâté

You will need:
Large russet potatoes
Canola oil to coat
Salt
Optional toppings, such as butter, sour cream, shredded cheddar and/or scallions
Alexian Black Peppercorn Mousse

Directions:
Heat oven to 350 degrees and position racks in top and bottom thirds. Wash and dry the potatoes, then using a standard fork poke 8 to 12 deep holes all over the spud so that moisture can escape during cooking. Coat the potatoes lightly with oil. Sprinkle with kosher salt and place potato directly on the rack in the middle of the oven. Place a baking sheet on the lower rack to catch any drippings.

Bake 1 hour or until skin feels crisp but the flesh beneath feels soft. Serve by creating a dotted line from end to end with your fork, then crack the spud open by squeezing the ends towards one another. It will pop right open. But watch out, there will be some steam. Add toppings if using (optional). Place a tablespoon or two of mousse on top of each potato.

Scalloped Potatoes with Pâté

You will need:
4 cups thinly sliced potatoes (Yukon Gold or Russet)
3 tablespoons butter
3 tablespoons flour
1 1/2 cups milk
1 teaspoon salt
1 dash cayenne pepper
1 1/2 cups grated sharp Cheddar cheese, divided
Paprika to taste
Alexian Grand Marnier Pâté

Directions:
Preheat oven to 350 degrees. Grease a 1.5-quart baking dish (8×8 or 9×9 inch baking dish will work). In a small saucepan, melt butter and stir in flour. Whisk in the milk and season with salt and cayenne. Cook sauce on low until smooth and boiling, stirring occasionally with a whisk.

Reduce heat and stir in 1 cup of the cheddar cheese. Place half of the sliced potatoes in the baking dish. Pour half of the cheese sauce over potatoes. Place thin slices of the pâté on top of the cheese. Repeat with the second layer of potatoes and cheese sauce. Sprinkle the remaining 1/2 cup of cheddar cheese on top and dust with paprika for color. Bake uncovered for about 1 hour at 350 degrees.

Soup and Pâté: A Comforting Winter Match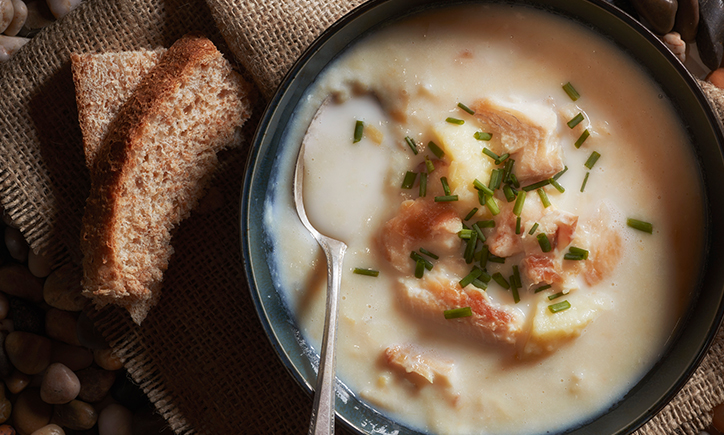 Few things beat a steaming bowl of soup during winter's long stretch. Here are some easy choices that get an upgrade by adding pâté.

Lemongrass Ginger Chicken Soup

Ingredients for 6 servings:
1 tablespoon olive oil
1/2 cup chopped onion
1 1/2 tablespoons finely minced fresh ginger
1 tablespoon white miso
1 (8-ounce) package pre-sliced cremini mushrooms
4 1/2 cups unsalted chicken stock
1 1/2 cups shredded skinless chicken breast
3 cups chopped bok choy
1 (8.5-ounce) pouch pre-cooked brown rice
1 tablespoon lower-sodium soy sauce
1/2 teaspoon kosher salt
1/2 teaspoon black pepper
1 tablespoon grated lemon rind
2 tablespoons fresh lemon juice
1-2 tablespoons of Alexian Chicken Liver Mousse

Instructions: Heat oil in a Dutch oven over medium-high heat. Add onion, ginger, and miso; sauté 4 minutes. Add mushrooms; sauté 2 minutes. Add stock, chicken, and bok choy; bring to a boil. Reduce heat, and simmer 8 minutes.

While soup simmers, prepare rice according to package directions. Stir rice, soy sauce, salt, and pepper into soup; cook 4 minutes or until bok choy is tender. Remove from heat; stir in lemon rind and juice. Add the Chicken Liver Mousse on top.

Creamy Vegetable Soup

Ingredients for 4 servings:
1 large onion
1 pound carrots, peeled (4 to 5 medium)
4 celery sticks
1 tablespoon olive oil
Salt
1/4 teaspoon crushed red pepper flakes
1 pound thin-skinned potatoes (3 medium or 6 small potatoes)
3 garlic cloves, peeled and halved
3 cups chicken or vegetable stock
2 bay leaves
3 sprigs fresh thyme (substitute 1 teaspoon dried thyme)
1/4 cup half-and-half, cream, or coconut milk
1-2 tablespoons of Alexian Vegetable Pâté

Chop the onion, carrots, and celery into 1/2-inch chunks. Chop the potatoes into 1/2-inch chunks, but set aside from other vegetables. Heat the oil in a large pot over medium-high heat. Toss the onion, carrots, and celery around in the oil. Sprinkle with a 1/2 teaspoon of salt and add red pepper flakes. Cook, stirring occasionally, until the vegetables sweat, soften, and smell sweet; 5 to 10 minutes.

Stir in the potatoes, garlic, bay leaves, and thyme. Cook for 5 minutes. (Add more oil if the pot seems dry). Pour in the stock and bring to a boil. Reduce to a simmer and cook until you can easily pierce the potatoes with a fork; about 15 minutes.

Remove the soup from the heat. Take out the bay leaves and thyme sprigs and discard. Use an immersion blender, stand blender, or food mill to puree the soup until smooth.
Stir in the half-and-half. Taste for seasoning and adjust with more salt and pepper if necessary. Add the pâté on top.

Easy Potato Soup

Ingredients for 6 servings:
5 large potatoes
2 green onions, plus more for garnish
¼ teaspoon dried basil, or more to taste
Salt and pepper, to taste
Water (quantity will vary)
2 ½ cups milk (plus more if needed)
1-2 tablespoons of Alexian Duck Rillette

Peel and roughly chop potatoes. Discard tops and bottoms of green onions and mince the remaining pieces. Add potatoes and onions to a medium-sized saucepan and cover with water. Boil on high for 30 minutes, adding more water to the pot as needed, until potatoes are well cooked and soft.

Remove pot from heat and drain the water over a strainer until it is just under the level of your cooked potatoes. Return to the pot any onions and basil that were caught by the strainer..

Add 2 1/2 cups milk to potatoes and mash until mostly smooth, leaving a few small chunks for a hearty texture. Add more milk, a dash at a time, until soup reaches your preferred consistency. Season liberally with salt and pepper to taste. Return pot to the stove and heat, stirring frequently, for 2-3 minutes. Serve garnished with additional green onion and Duck Rillette.

2019 in Review: Our Best Gourmet Fares of the Year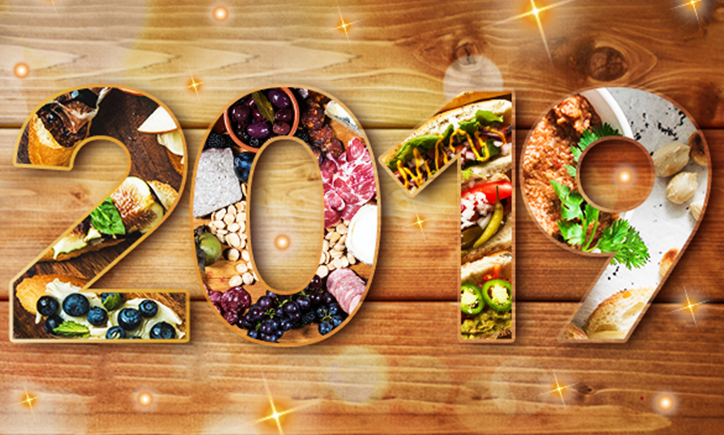 The end of the year is always a great time to reminisce and think about the year as a whole. Here at Alexian, we know we have given you many tips, recipes, and other content to help you enjoy our pâté. Since it's the end of the year, we have assembled some of our top content from 2019.

While pâté is great on crackers or bread, we honored its versatility by showing you how to incorporate it into your dishes. Next time you are at a loss about what to make, or craving a new flavor, go to this article and get some inspiration.

We also introduced to you our new Alexian Specialty Crackers: Olive Oil & Sea Salt, Rosemary & Olive Oil and Cracked Peppercorn. For different and creative ways to top your crackers, revisit this article.

Whether you skip breakfast or go for the same old classics, we showed you different ways to incorporate pâté to your morning meal. You can read that here.

Many people think of pâté as something to add on top of something, but there is so much more than can be done as well! Using pâté as a stuffer is an unexpected choice to get rich and hearty results. We gave you a few ideas with this article. We didn't forget about our vegetable-loving friends this year. Not only do we offer vegetable and vegan pâtés, but we showed you how to eat them here.

You can enjoy pâté year-round, but there is something so special about summer. We created an article about how best to enjoy pâté during that season.

And lastly, we are proud to remind you that we do not use foie gras in any of our products. Never have and never will! Please read more about it here.

Wishing you happy holidays and a happy and healthy New Year! Cheers!

Choosing Pâté for Your Party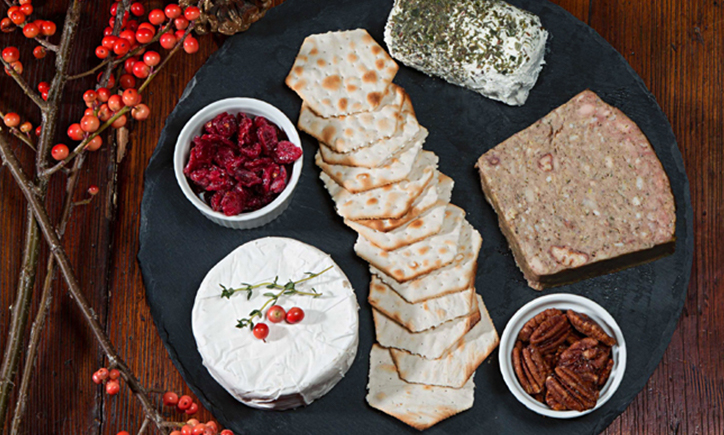 For most of us, the winter months bring us indoors to celebrate the holidays and to enjoy dinner parties with friends and family. Hors d'oeuvres are often central to these gatherings, and it is nice to provide guests with a variety from which to choose. Adding pâté to your menu will impress your guests as well as encourage them to perhaps try something new. Each pâté is unique, differing in style, flavor and type of ingredients, so providing a few as part of your spread is a creative and easy way to create variety. Below we've assembled a pâté cheat sheet to help you choose which to serve.

Country-style pâtés are the most traditional type, and are what most people think of when they hear the word pâté. This type is coarse in texture, similar to a meatloaf and is often served in thin slices on a baguette, or cut into cubes and served with toothpicks. Our Pâté de Campagne is a simple and approachable coarse style, which has arguably the most versatility for pairings.

For a smoother, more spreadable pâté, reach for a mousse like our Truffle Mousse which is an Alexian fan favorite. Mousses are often served alongside crackers, baguette, or crostini, making for an easy and quick presentation for your gathering.

There are many flavor profiles of pâté, and we find that offering the most unique or unusual flavors will garner the most attention. Try varieties like our Pheasant with Rosemary or our Wild Forest Mushroom .

Rillette which is arguably in the same family as pâté, is another item well received at gatherings. A rillette is meat which has been slowly cooked in its own fat with a blend of seasonings. Our Duck Rillette is a decadent treat and is a popular item during the holidays, during which time we all indulge!

For a lighter and more colorful option, our vegetable and vegan pâtés can be enjoyed during the cooler months but are also an appropriate option for summer. Our Eggplant and Goat Cheese, Mushroom Artichoke, and our Mixed Vegetable varieties are pleasing to the eye and very unique in flavor profile.

Next time you are hosting a gathering, don't let pâté intimidate you. Choose a few different varieties to serve alongside cheeses, breads and crackers, chutneys, mustards, and fresh fruits and vegetables. It is a perfect appetizer before a meal or to serve alongside cocktails.

Unexpected, Easy Stuffed Recipes with Pâté

Pâté is indulgent and perfect for special occasions. Using it as a stuffing is an easy and unexpected way to showcase pâté. With groups of people coming together for large meals, it's a great option with which to make delicious dishes. Below are some of our favorite ways to use pâté as a stuffing.

Pâté-Stuffed Mushrooms

For this recipe you will need:
30 medium fresh mushrooms
1 container vegetable stock
1/2 small onion, minced
2 tablespoons butter
1 slice of Alexian Grand Marnier Pâté
1 tablespoon lemon juice
1/4 teaspoon seasoned salt
Freshly ground pepper to taste
Preheat the oven to 425°F. Hollow out mushroom caps and set stems aside. Boil mushroom caps in the stock for 7-8 minutes. While boiling the mushroom caps, mince the mushroom stems. Sauté in butter with minced onion. Mash pâté with a fork and mix with lemon juice, salt, and pepper. Fill mushroom caps with mixture, brush tops with butter and bake for 5 minutes or until brown on top.
Pâté and Pistachio-Stuffed Turkey
1 teaspoon salt
1 pinch ground white pepper
1/2 teaspoon sweet paprika
1 turkey, thawed
1½ cups sliced fresh mushrooms
1 slice of Herb de Provence Pâté
1/3 cup chopped pistachio nuts
1/2 teaspoon dried thyme leaves
1 egg
3 cups Challah bread, cut into cubes
3 tablespoons melted butter
Preheat oven to 425°F. Mix salt, white pepper, and paprika together in a small bowl and set aside. Prepare your turkey for roasting by patting it dry and ensuring giblets are removed. Rub half of the paprika mixture inside the turkey. Rub the remaining mixture into the skin on the outside of the turkey.

Chop the mushrooms, and place into a bowl along with the pâté, chopped pistachios, thyme, egg, and Challah and mix thoroughly. Stuff the stuffing into the opening of the turkey, then tie the legs and wings with kitchen twine. Brush the bottom side of the turkey with half of the melted butter and place turkey into the roasting pan, breast-side down.

Roast in the preheated oven for 45 minutes. Then flip the turkey to breast-side up, brush with remaining butter, and continue roasting until cooked, about 60 – 75 minutes. An instant-read thermometer inserted into the thickest part of the thigh, near the bone, should read 180°F (82°C). Remove the turkey from the oven, cover with aluminum foil, and allow to rest for at least 30 minutes before slicing.

The Perfect Pairings for Alexian Specialty Crackers

Cheese and crackers may be your go-to, but there are many other ways to top your cracker! A third of cracker eaters say they pay more attention to what's on top of their cracker than to the cracker itself, according to the market research firm Mintel. But we have to disagree! We have three flavors of crackers- Olive Oil & Sea Salt, Rosemary & Olive Oil and Cracked Peppercorn- that are sure to please. Try the following creative no-cook cracker pairings to serve at your next gathering, or to enjoy for your next snack.

Peppercorn and apricot jam: Top our Olive Oil & Sea Salt cracker with Alexian Black Peppercorn Mousse, and add a bit of sweetness with the apricot jam.

Tomato and Herbs: Mix 1 teaspoon of low fat cream cheese with minced fresh rosemary or thyme, and spread onto our Olive Oil & Sea Salt cracker. Top with half a cherry tomato.

Ham and Cheese: Spread a little mayo or mustard atop a cracker, then add a small square of Swiss cheese and Black Forest Ham. This is best enjoyed on our Rosemary and Olive Oil Crackers.

Fig and prosciutto: Spread goat cheese onto our Peppercorn Cracker and top with thin slices of fig, and prosciutto

Mousse and olive: Chicken Liver Mousse is rich and easy to spread. Pair this with an olive on top of a Peppercorn Cracker.

Cheese and Honey: Put a small wedge of Bucheron or Brie on top of our Olive Oil & Sea Salt Cracker, and drizzle with honey.

Gourmet upgrades to your favorite homey recipes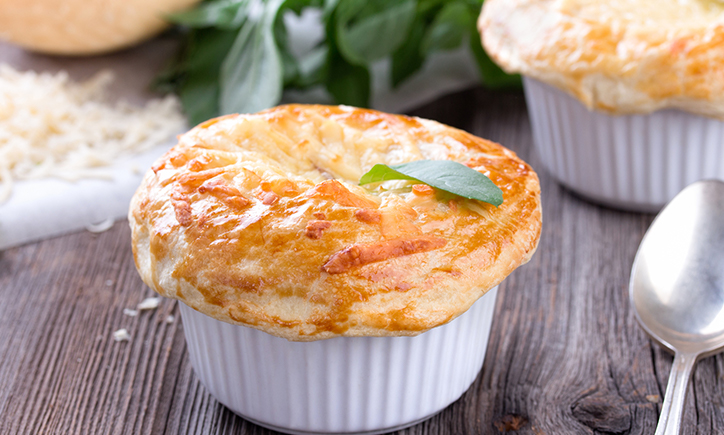 Chicken pot pie is a dish that elicits a smile no matter what. It's cozy comfort food that has been passed down for generations. Upgrade this classic dish with pâté and create a flavor profile your loved ones haven't experienced before. For this recipe, which makes two pot pies, we will use store-bought pie crust as it's a helpful hack when you don't want to spend time making a crust from scratch.

Ingredients:
• 2 cups diced peeled potatoes
• 1-3/4 cups sliced carrots
• 1 cup butter, cubed
• 2/3 cup chopped onion
• 1 cup all-purpose flour
• 1-3/4 teaspoons salt
• 1 teaspoon dried thyme
• 3/4 teaspoon pepper
• 3 cups chicken broth
• 1-1/2 cups whole milk
• 4 cups cooked chicken
• 1 cup frozen peas
• 1 cup frozen corn
• 4 sheets refrigerated pie crust
• 1 slice of your favorite Alexian coarse cut pâté, cubed

First preheat oven to 425°. Place potatoes and carrots in a large saucepan; add water to cover. Bring to a boil. Reduce heat; cook, covered, 8-10 minutes or until crisp-tender; drain. In a large skillet, heat butter over medium-high heat. Add onion; cook and stir until tender. Stir in flour and seasonings until blended. Gradually stir in broth and milk. Bring to a boil, stirring constantly; cook and stir 2 minutes or until thickened. Stir in the potato mixture, chicken, peas, corn, and pâté; remove from heat.

Unroll a pie crust into a 9-in. pie plate, using one crust per plate; trim even with the rim of the plate. Add chicken mixture. Unroll remaining crusts; place over filling. Trim, seal and flute edges. Cut slits in tops. Bake 35-40 minutes or until crust is lightly browned. Let stand 15 minutes before cutting.

Freeze option: Cover and freeze unbaked pies. To use, remove from freezer 30 minutes before baking. Preheat oven to 425°. Place pies on baking sheets; cover loosely with foil. Bake 30 minutes. Reduce oven setting to 350°; bake 70-80 minutes longer or until crust is golden brown and a thermometer inserted in the center reads 165°.

Take out of oven and let cool slightly. . Freshly baked, chicken pot pie will last up to 5 days in the refrigerator.

Beef Wellington is a rich, satisfying entree often featured on the menus of high end restaurants. But the dish is surprisingly easy to make at home, especially with Alexian Pâté and pre-made puff pastry dough. This famous dish features a tender beef fillet covered with pâté and a mixture of sautéed mushrooms, shallots, onions and herbs. The covered beef is wrapped in pastry and baked to a golden brown.

Ingredients:
• 1 Slice of Alexian Black Peppercorn Mousse
• 1 Store bought puff pastry
• 2 lb beef fillet
• 1 lb mushrooms
• 1 onion
• 3 oz butter

To make, simply sear the beef on all sides and roast at 375° for about a half hour. While the beef cooks, sauté the mushrooms and onions in butter until soft. Remove the beef and coat with a generous portion of Alexian Black Peppercorn Mousse . Add a layer of the mushroom mixture on top and then wrap the whole thing in the puff pastry. Put it back in the oven until golden brown.

Serve with potatoes, peas, carrots and a full bodied red wine.

No Foie Gras in Alexian Pâtés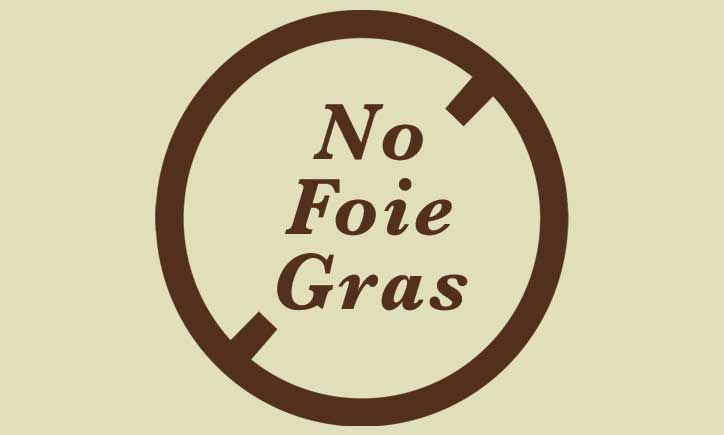 Alexian pâtés are made with carefully sourced ingredients, from strongly vetted vendors. Central to our sourcing requirement for meats, is the humane treatment of the animals from which our meat is harvested, including where and how they are raised and how they are fed.

Foie gras, by definition, is liver which has been harvested from a duck or goose, especially fattened to yield a larger, fattier liver. Since its creation, foie gras has long been considered a delicacy in the culinary world, known for its rich, buttery, indulgent flavor.

However, foie gras is also met with controversy over animal welfare concerns. Some parties argue that the process by which these animals are fed is cruel and inhumane. The livers are fattened by a process called "gavage", in which an animal is fed by way of a feeding tube, in an effort to fatten the animal, and ultimately fatten its liver.

Unfortunately, the term foie gras is often used incorrectly to describe any and all pâté. In fact, the term should only be used to describe the liver that has been fattened by gavage. Pâté contains not only liver, which may or may not be foie gras, but also many other ingredients.

Most pâté does not contain foie gras, and those that do contain foie gras are specified as such. Alexian has never used foie gras, because we can produce a flavorful, indulgent product without the use of fattened livers. Our old-world European recipes are made with care, using premium quality ingredients that are free from added hormones and antibiotics and are free from preservatives and anything artificial.

Wholesomeness and sustainability have always been a core part of Alexian's mission since day one. Outstanding quality food starts with treating the livestock well.

Make the most of summer tomatoes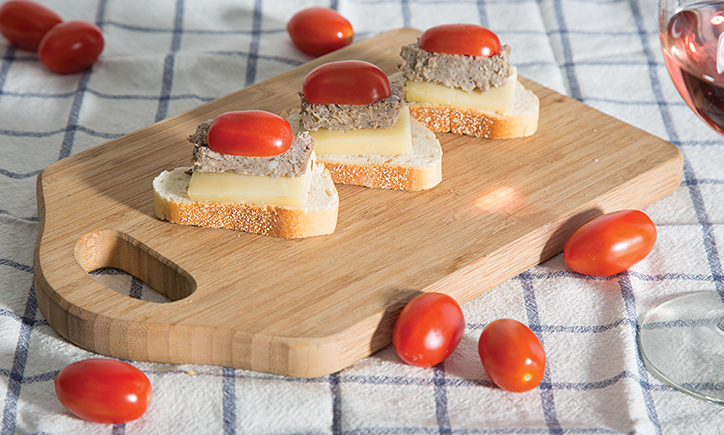 Is there anything quite as tasty as a summer tomato? August is the best time to eat ripe juicy tomatoes, which add flavor and depth to many recipes. We have put together some easy, late summer recipes that fully appreciate tomatoes.

Parmesan Tomato Chips
Yields 3-5 servings
For this recipe, you will need:
• 5-7 ripe tomatoes
• Olive oil, to taste
• Salt and pepper, to taste
• ½ cup of grated or shredded Parmesan cheese
• 1 slice of Alexian Pheasant Rosemary pâté

Cover an oven rack with aluminum foil. Thinly cut the tomatoes and brush with olive oil and your choice of seasoning. We like to stick to simple salt and pepper, as the pâté in this recipe is very flavorful. Put the tomatoes into a 275F-degree oven for around 2.5 to 3 hours. Check every now and then to make sure the tomatoes don't get burnt. Right before taking them out of the oven, sprinkle the tomatoes with the cheese and bake for an additional 3 to 4 minutes, or until cheese is melty. Remove from oven and let completely cool for an hour. Once cooled, top each tomato with a small slice of the Pheasant Rosemary pâté.

Tomato Pasta Salad
Yields 4-6 servings
For this recipe, you will need:
• 5 tablespoons olive oil
• 1/2 cup chopped fresh basil
• 2 large garlic cloves, chopped
• 1 1/4 pounds tomatoes, chopped
• 8 ounces penne pasta
• 1/2 cup grated Parmesan cheese
• Salt and pepper, to taste
• 1 slice of Alexian Pâté de Campagne

In a large bowl, mix tomatoes, garlic, salt, pepper, oil, basil, and parmesan cheese. Cover; refrigerate 2 hours to blend flavors. Meanwhile, cook and drain pasta as directed on package. Rinse with cold water to cool; drain. Cut the pâté into small chunks and let it get to room temperature. In a large serving bowl, mix cooked pasta, tomato mixture, and pâté until well combined. Sprinkle extra Parmesan cheese over top, to taste.

Caprese sandwich

For this recipe, you will need:
• 1 Italian sub roll
• 1/2 tablespoon extra-virgin olive oil
• 1/2 tablespoon balsamic glaze
• 3 thick slices fresh mozzarella (buffalo, if possible)
• 2 fresh Campari tomatoes (thickly sliced)
• 5 basil leaves
• Salt, to taste
• Freshly ground black pepper, to taste
• 1 slice of Alexian Sage and Pork Mousse

First, cut open the roll and slice the tomatoes. Spread pâté, to taste, on the underside of the top half of the roll, then drizzle with extra virgin olive oil and balsamic glaze. Add basil and tomato to the bottom half of the roll and sprinkle with salt and pepper. Top with fresh mozzarella. Close the sandwich and enjoy!

Simple Crostini

For this recipe, you will need:

• 1 loaf of fresh French or Italian bread, cut into thin diagonal pieces
• 8 oz of sharp white cheddar
• 1 pint of cherry tomatoes, sliced in half
• 1 slice of Chicken and Veal Pâté (or anyone of our coarse pâtés)

First, slice your loaf of bread into thin diagonal pieces. Then, cut the cheese and pâté into slices that will fit nicely onto the pieces of bread that you just cut. To make one crostini, place the cheese and pâté on the bread and top with the cherry tomato slice. Repeat until you've reached the desired number of crostini you wish to serve. Enjoy this as a delicious snack or an easy appetizer for your next backyard gathering!

Easy Summer Meals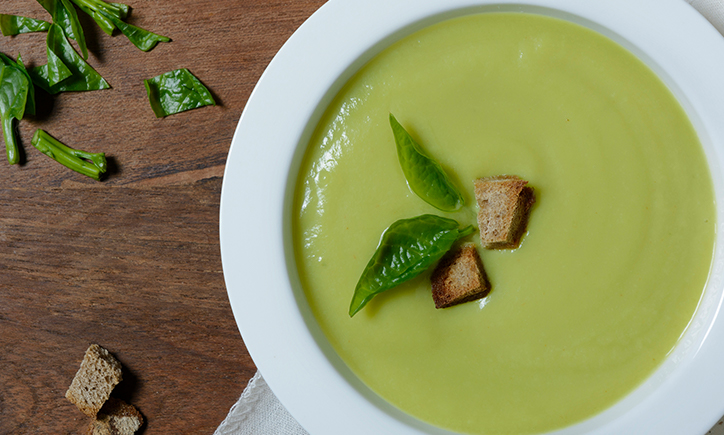 Rising temperatures shouldn't mean avoiding the kitchen especially since this season offers fresh, light, and delicious meals. Here are some summer recipes that we love. These quick and easy meals will give you more time to enjoy your days.
Chilled Avocado Soup with Pâté:
You won't be able to get enough of this Chilled Avocado Soup with Pâté. For this recipe you will need 3 large avocados—halved, pitted and peeled, 2 cups vegetable stock, 1/4 cup fresh lime juice, 1/2 cup heavy cream, salt, Canola oil, 4 medium serrano chilis thinly sliced, cilantro, and one slice of Grand Marnier Pâté. This will make four servings.
In a food processor, combine the avocados, stock, 1 cup of water and lime juice and puree until very smooth. Keep the machine on and gradually add the heavy cream. Strain into a large bowl, then season with salt. Cover and refrigerate until its chilled, around 1 hour.
Then in a medium saucepan, heat ¼ inch of canola oil until shimmering. Add the serranos and fry over moderately high heat, stirring, until lightly browned and crisp, 1 to 2 minutes. When done move to paper towels to drain.
Cut the Pâté into small chunks. Pour the chilled soup into bowls and top with the pâté and crispy serranos. Garnish with cilantro and serve.
Pâté Taco:
Your taste buds will be in for a treat with this Pâté Taco recipe that serves 4. You will need 1 quartered lime,12 small warm corn tortillas, shredded Romaine or Iceberg lettuce, Pico de Gallo salsa, 1 avocado – pitted and cut into thin slices, Sour cream, and one slice of Pâté de Campagne, cut into small chunks.
To make the taco, stack 2 tortillas on top of each other and fill with chunks of pâté, lettuce, salsa, a few avocado slices, and a dollop of sour cream. Repeat as necessary.
Ballotine and Cucumber Salad with Parsley Pesto:
For this light recipe you will need 2 cups parsley leaves, 1 cup fresh baby spinach, 2 tablespoons fresh lemon juice, 1 tablespoon toasted pine nuts, 1 tablespoon grated Parmesan cheese, 1 medium garlic clove – smashed, 1 teaspoon kosher salt, 1/4 teaspoon black pepper, 1/2 cup olive oil, 1 can unsalted chickpeas – drained and rinsed, 1 cup chopped English cucumber, 4 cups loosely packed arugula, and one slice of Chicken Ballotine.
Combine parsley, spinach, lemon juice, pine nuts, cheese, garlic, salt, and pepper in a food processor; process until smooth, about 1 minute. With the processor still on, add oil and process until smooth, about 1 minute. Stir together the ballotine, chickpeas, and cucumber in a large bowl. Add pesto; toss to combine. Place 2/3 cup arugula in each of 6 bowls and top each with the salad mixture. Serve immediately and enjoy.