Best Sandwich Recipes From Around the World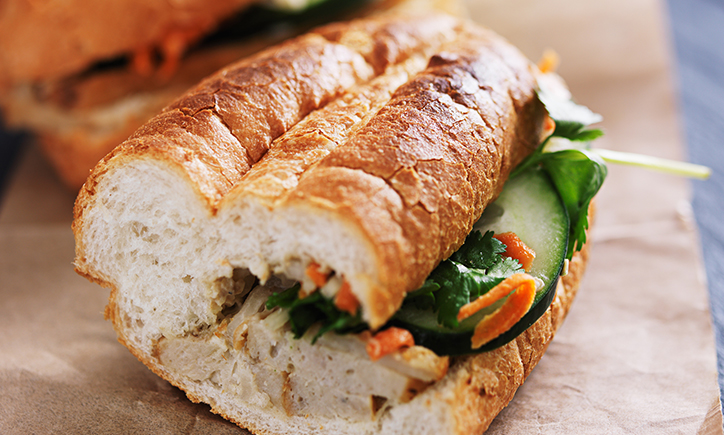 When you're hungry, there's nothing quite as satisfying as sinking your teeth into a delicious sandwich. We're not talking good-old-American PB&J. We're talking favorites from around the globe that will redefine your idea of "sandwich" forever.

Let's start with an American classic: grilled cheese. Give it a Spanish spin by adding prosciutto and dates.

Or become an Aussie for a day with a Vegemite sandwich. Be forewarned that many say it's an acquired taste.

Do as the Danish do with a smørrebrød (buttered bread) sandwich. Toppings include pickled or smoked fish, liver pate or mousse, sliced cold cuts and boiled eggs.

You might not associate Italy with dainty little tea sandwiches, but that's just what tramezzini are. These triangular finger sandwiches are made with crustless soft white bread and homemade mayonnaise. The fillings are up to you!

In England and India, chutney is a common ingredient in sandwiches. What's chutney, you ask? It's a spicy condiment made of fruits or vegetables with vinegar, spices, and sugar.

In the Middle East, pita is the bread of choice, filled with everything from falafel (fried chickpea balls) to eggplant to hummus or schnitzel (fried chicken breasts).

Breakfast sandwiches are all the rage here in the U.S. where everyone's on the go, but we don't have a corner on the market. In Singapore, toast bars are popular. Kaya toast sweet is a sweet sandwich similar to French toast. Here, the bread is covered in butter and kaya jam (made from egg and coconut milk) and fried, and is often eaten with a boiled egg for breakfast. The Spanish bocadillo – a baguette filled with meat, cheese or a sliced omelet – also is designed to be eaten on the run.

Need some additional inspiration? Check out these pâté sandwiches that you won't be able to get enough of! Like our twist on the traditional Vietnamese banh mi, which pairs chicken liver pate with shredded pork.

Using Pâté to Transform Leftovers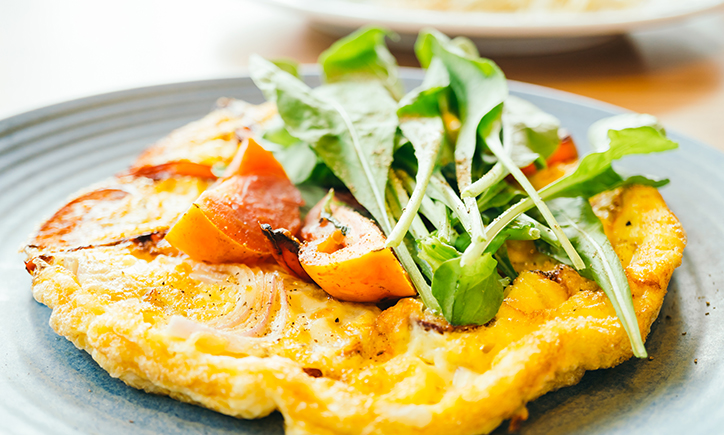 If you're the one who does most of the cooking in your household, you probably like serving leftovers. It's one less meal to shop for, one less meal to prep, and one less meal to clean up. But, let's face it, leftovers can get boring.

What if you could add an ingredient that would transform yesterday's leftovers into today's tasty new dish? You can – with pâté.

Did you get carried away with the pasta? Pasta tends to absorb sauce, so if you find you've got more pasta left over than sauce, make a tasty sauce the next day using our Duck Rillette, butter, onion, garlic and cooking sherry. Truth is, pâté can spice up any leftover side dish, such as rice, quinoa or farro.

Soup is also a great entrée for using up leftovers. Chop up leftover chicken or turkey, throw in some veggies, and toss in a couple tablespoons of our Chicken Liver Mousse for added flavor and texture.

Got leftover potatoes? Mash them up with Alexian truffle mousse for a mouth-watering side dish. Don't let stale bread go to waste; make Mushroom Leek Stuffing, using our Forest Mushroom pâté. Put leftover produce to good use with a tossed salad topped with chunks of our Tomato Basil vegan pâté.

Don't forget that leftovers also can be used for breakfast. Whip up an interesting omelet or frittata using whatever meats or veggies you find in the fridge, plus your favorite pâté.

Creating a Pâté Board in 5 Easy Steps

Pâté is a traditionally decadent food, ideal for the season's celebrations of food and family. A well-crafted pâté board will please even the pickiest of eaters by allowing your guests to customize their selection. Best of all, it's easy to set up.

Here's how to make a crowd-pleasing pâté board just five easy steps:

1. Choose Your Pâtés

Your pâtés will be the star of your board, and everything else should work in harmony to enhance the rich flavors.

We suggest offering a selection of pâtés that showcase a variety of flavor profiles and textures.

For instance, a country-style pâté has a coarse texture, with herb-infused, gamey flavors that can be cut into cubes and served with toothpicks. Our Chicken and Veal Pâté is encrusted with mustard seeds and pairs nicely with mustards, dried fruits, and nuts. Our Campagne Pâté is our most versatile country-style pâté and pairs with almost anything, including mustards, pickles, and chutneys.

Our Duck Rillette, however, has a more shredded texture, and a special seasoning blend that pairs well with smoked cheeses, or as an indulgent, standalone bite.

Our mousses offer a lighter, creamier consistency that is easy to spread, and perfect for pairing with condiments, fresh fruits and vegetables, and cheeses. The Spiced Apple Mousse is a seasonal favorite, with hints of apple brandy and apple pie spices.

And if your family has vegetarian, vegan or diet-conscious diners, our tempting vegetable and vegan terrines are a great way to round out the selection. Even your most carnivorous guests will appreciate the refreshing vegetable medleys that come to play in our terrines.
2. Choose Your Cheese

When you offer a variety of pâté, you also need a variety of cheeses. One of the most exciting parts of a pâté board is allowing your guests to experiment with different combinations. We suggest choosing cheeses from different categories, such as:

? Smoked cheeses, such as smoked provolone, gouda and gruyere. The smoky, nutty taste pairs well with our pâté, complementing each other without losing their nuance.

? Sharp cheeses, like cheddar. The sharp, salty flavors cut through the gaminess of our country-style pâtés to provide a delightful contrast of flavors.

? Soft cheeses like brie or chevre. These cheeses add a creamy component to our pâtés, terrines and mousses.

If your pâté board is your main appetizer, you'll want about three to four ounces of cheese per person. If it's just one of many in your pre-meal line-up, shop for about two ounces per person.

3. Choose Your Accompaniments

Hard and cured meats such as salami and prosciutto have bold flavors that provide a contrast to the richness of pâtés. They also work as standalone flavors for pairing with cheeses.

You'll also want a sweet component to balance many of the salty and prominent flavors on the board. Seasonal fruits, such as figs, pears and apples are a classic way to add balance, and a drizzle of honey enhances the savory flavors of pâtés and cheeses.

Nuts add texture and provide a palette-cleansing effect, which is important when you're hosting an array of flavors. For a seasonal touch, roast walnuts or chestnuts. The aroma is mouth-watering!

4. Choose Your Breads

With all of this creamy, cheesy, savory goodness in front of them, your guests will be looking for a vehicle to get it from the board to their mouths. Supply your guests with a mixture of different breads, crackers and breadsticks for a range of texture options.

5. Choose Your Settings

Last, but certainly not least, are the details. If you're crafting an elaborate pâté board, you'll need plenty of room. You want to make sure that your board is not over-crowded, for both aesthetic and logistical purposes.

It's helpful to guests if you label each item, so they know what to expect and how to pair their samplings. In order to keep things moving quickly, be sure that each item can easily be served. For soft foods, make sure there is an appropriate utensil (either for spreading or scooping). For hard foods or meats, make sure they're cut into individual sizes servings, and that there are either toothpicks or serving forks readily available.

What to bring to the holiday office potluck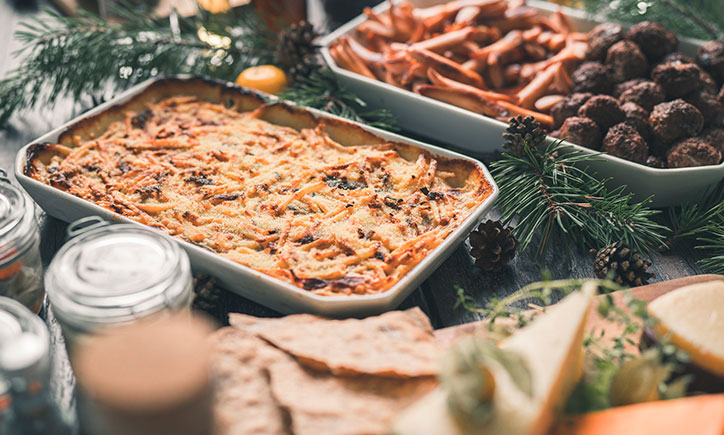 One way to win friends and get noticed at work is by bringing something delicious to the holiday office potluck. Here are a few recipes for success:

Skip the Swedish or sweet-and-sour meatballs and go for these Mediterranean-inspired Lamb Meatballs with Lemon-Cumin Yogurt. Cinnamon, cumin, mint and other spices give the meatballs their exotic flavor. And the yogurt dip is so yummy you might want to make extra, and bring some Olive Oil & Sea Salt Crackers to go with it.

In keeping with the Mediterranean theme, try these Fried Chickpeas with Sage. Be forewarned, however: They are so addictive that you might need to make two batches, one for home and one for the office.

You'll make believers out of the kale doubters at your office with this Kale-Apple Coleslaw with Poppyseed Dressing. This sweet-tangy coleslaw will have your coworkers coming back for more.

Bite-sized food is always a good bet, like this Lox Flatbread. Simply spread crème fraîche on flatbread or crackers, and top with smoked salmon. Simply divine!

Impress the boss with Buffalo Chicken Pinwheels, or bring a crockpot full of chili. Think outside the crockpot and make vegetarian chili, turkey chili or chili with beer (don't worry, most of the alcohol will evaporate).

Can't resist bringing something that's red and green? Anything with red and green peppers works, such as pasta salad. Or bring toothpick-skewered cubes of pâté and pimiento-stuffed green olives. Instead of a veggie tray, bring veggie skewers, alternating grape tomatoes with cucumber, broccoli or other green veggies. Feeling especially creative? Make a Christmas Tree Cheese Board, arranging rows of various shades of cubed cheese, green and red grapes, accented with twigs of thyme. Christmas Nacho Cups are super-simple: Fill dip-sized chips with a dollop of guacamole, topped by shredded cheese and half a grape tomato. Olé!

If you'd rather bring dessert, this Easy Mocha Fudge is as delicious to eat as it is easy to make. It's a great finger food (and a great pick-me-up later in the workday). Strawberry Santas are both adorable and delicious. Cut a strawberry in half horizontally, then make a "sandwich," filling it with whipped cream. Add a dollop of whipped cream on top, two dots of whipped cream on the bottom half for buttons, and two black sesame seeds for eyes. Other whimsical themed desserts are Rudolph the Red-Nosed Reindeer Brownies and Reindeer Oreo Balls.

Easy Appetizers with 5 Ingredients or Less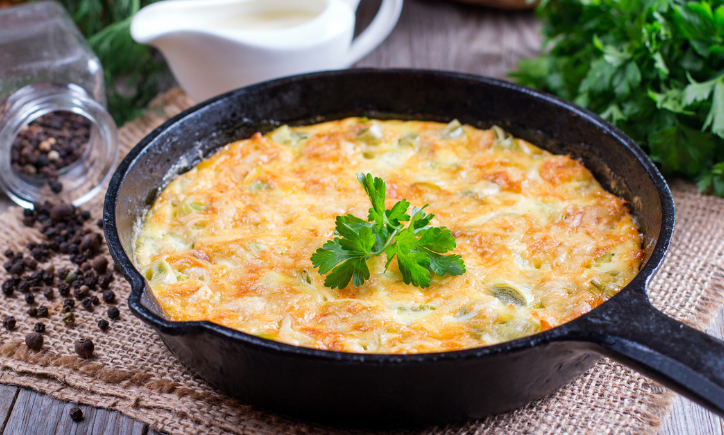 The season of entertaining is upon us once again, but it seems like just last week we were stuffing our turkeys and decking the halls! If you're anything like us, your Novembers and Decembers are packed with friends, family, and food. Here in the Alexian Kitchen, we're always trying to create new recipes that not only please our guests, but that is easy enough to leave us time to enjoy them.

We've gathered some of our very favorite 5-ingredient recipes to help you host the holidays without the hassle.

Baked Fontina

You can never go wrong with a big, melty skillet full of cheese. Especially when you add in Alexian pâté.

Layer cubed fontina cheese and Alexian Black Peppercorn Mousse in a cast iron skillet or baking dish, top with sliced garlic, thyme leaves and olive oil. Broil until it's melted and bubbly enough to scoop up. Serve with toasty, flaky bread.

Truffle Balls

We're not sure what the best part of this recipe is – the truffle, the mousse, the poppable, bite-size shape, or the fact that you don't have to turn on your oven to make them. For years, our Truffle Mousse Balls have inspired rave reviews, yet this three-ingredient recipe takes only minutes to make.

Simply roll teaspoon-sized balls of our Truffle Mousse into a mixture of Panko breadcrumbs and thyme, then set them in the fridge until you're ready to serve them. Make these in a large batch. The decadence of the truffle makes each bite practically melt in your mouth, keeping you coming back to the plate again and again.

Mini Grilled Cheese

Grilled cheese on Thanksgiving? Absolutely. Elevate your typical grilled cheese by substituting in decadent ingredients. Simply make 4-5 full-size sandwiches, slice into quarters and arrange on a plate. Here are a few mouth-watering suggestions.

Brioche + Swiss cheese + Goose Liver Mousse + caramelized onions

French bread + Duck Rillette + brie + plum jam

Potato bread + Black Peppercorn Mousse + over easy egg

Puff Pastry Bites

There's nothing quite as satisfying as biting into a warm, melt-in-your-mouth roll full of savory goodness. Gently wrap thin slices of any of our pâtés (though a couple of our favorites for this recipe are the Chicken & Veal and Forest Mushroom pâtés) in puff pastry and cook until light golden brown.

You can also use crescent roll dough in place of puff pastry to save a little time. Feel free to experiment with your own add-ins – like your favorite smoked cheese – just don't overload them!

Serve with a dijon or whole grain mustard dipping sauce, or on their own!

Deviled Eggs with Pâté

A simple yet decadent delight, deviled eggs are even better when Black Peppercorn Mousse is mixed in! These hearty snacks are handheld, making them ideal for casual holiday parties.

Platters, boards, serving knives: new ideas for holiday gifting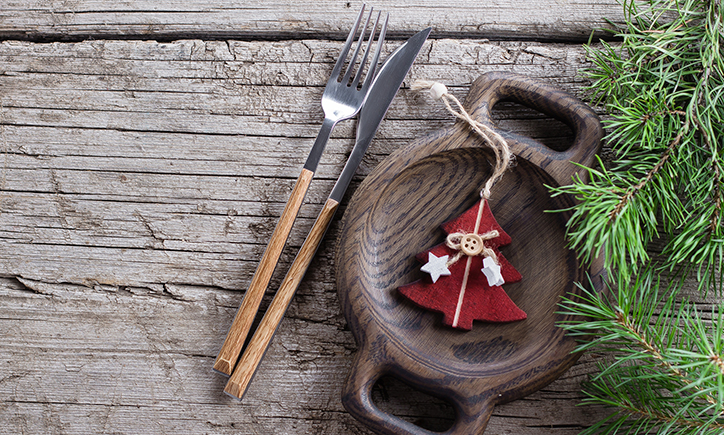 If your holiday gift list includes self-proclaimed foodies or those who simply love to entertain, you'll find plenty of ideas this season. Your only challenge will be to decide on which gifts to give which recipients!

For family members and friends who insist on doing their own food prep, a personalized cutting board is the perfect choice. Carved with the recipient's name, this wood cutting board can double as a serving piece. In fact, load up the board with cheeses, charcuterie and crackers, and bring as a gift to a holiday house party.

Put a little color — actually, a lot of color — into a cook's holiday with a colored knife set. Look for a set with a magnetic strip or that come with a knife block; this lets you keep knives close at hand but high enough to be out of reach of little hands. You'll find sets with everything from heavy-duty carving knives to serrated bread knives and cheese knives that are ideal for entertaining.

Anyone who appreciates artistry will love a decorative platter made from glass or ceramic accompanied by decorative cheese knives or spreaders. Some of our greatest finds have been on the shelves at stores like HomeGoods or Pier 1!

With today's preponderance of dietary preferences (think gluten free, peanut allergies, dairy free, vegan, etc.), a platter with a customizable "Now serving _____" sign can really come in handy. Ceramic or slate colored signs are on-trend and can be written on with a dry-erase marker or chalk, and reused over and over again.

And when it comes time for you to be on the receiving end of the gift, it's OK to drop a few pre-holiday hints. That way, you can avoid having to stand in the customer service line as you wait to return or exchange those "Oh you shouldn't have!" gifts.

Cheese and jam pairings on crackers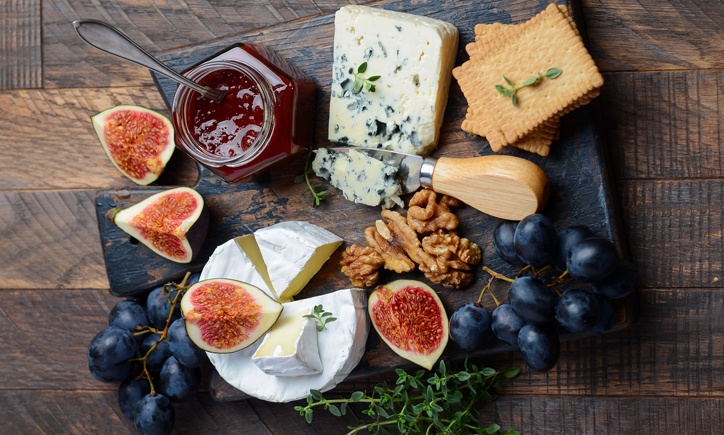 Cheese and crackers make for a satisfying, sophisticated snack. And when you add a dollop of jam atop the cheese, you take this pairing to a whole new level. Here are a few suggestions on what fruity spreads go best with which cheeses:

Let's start with an all-American favorite, apple pie, but hold the crust. Here, you might want to put cheddar, brie or sheep's milk cheese on top of the apples. If you still want a bit of a crunch, serve it atop graham cracker squares.

When we think of figs, most of us think of fig bar cookies. But fig spread is such a diverse condiment that it pairs with many cheeses, from Spanish varieties to brie, blue cheese and even feta.

Quince paste is quite a tasty treat. This fruit spread is made with quince, also known as membrillo, a sweet fruit that tastes like a cross between a pear and a golden delicious apple. Quince paste goes well with manchego cheese.

Originating in India, chutney is a fruit relish that can range from sweet to sour, mild to spicy. Chutney is best complimented by aged cheddar or fresh goat cheese.

If you like bold flavors, you'll love these pairings: aged cheddar with tomato jam, gouda with orange marmalade or plum jam, parmesan with apricot jam, blue cheese with black currant or red onion jam, or camembert and cranberry jam.

Don't let Italian mostarda fool you; while it's made from syrup-preserved fruit, powdered mustard seed gives it a spicy kick. Pair it with gouda, Italian parmigiano or pecorino.

Sweeter cheeses and jams also make for delicious desserts, with all the flavor but not all the guilt. Go for shortbread cookies topped with mascarpone cheese and lemon curd, strawberry or raspberry jam. Rich ricotta is another good choice, served with pear and cocoa spread, peach and cocoa spread, or banana jam.

Easy & Impressive Cracker Toppings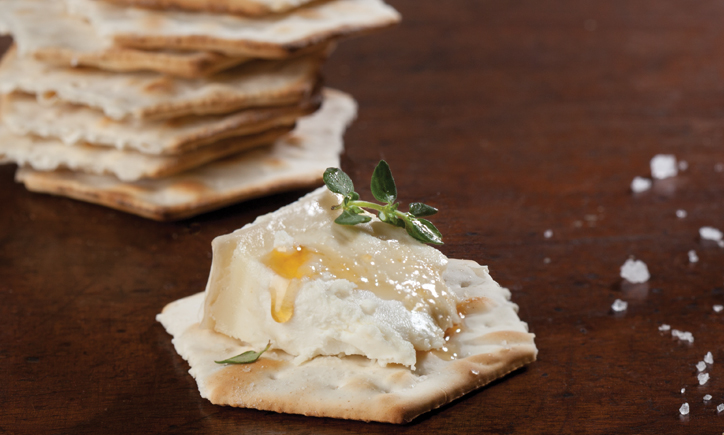 Sometimes, less is more. When you use the purest, highest quality ingredients, you can let them speak for themselves. Our crackers only have three ingredients – giving you everything you want in a cracker with nothing you don't.

Here are six ways you can top them off for a hearty snack, sophisticated lunch, or anytime delight.

Corn Salsa & Queso Fresco
Queso fresco is creamy and smooth, pairing nicely with the bright, fresh flavors of a corn and black bean salsa. To make the salsa, add equal parts corn and black bean, a handful of fresh, chopped cilantro, a spritz of fresh lime juice and a sprinkle of salt, pepper and cumin.

Lox & Cream Cheese
Bagels aren't ideal for a summer snack – they can be heavy and overly- filling, leaving you ready for a nap after you eat. Instead, try your favorite bagel combo on a flaky cracker, and get the best of both worlds.

Caprese
Caprese is (in our humble opinion) the salad of the summer. Tomatoes and basil are at their peak season, and fresh mozzarella is filling without weighing you down. Slice a log of fresh mozzarella into thin slices, and layer onto a decorative serving platter between slices of fresh tomato and fresh basil. Drizzle with a balsamic vinaigrette or simply with extra virgin olive oil and fresh cracked salt and pepper.

Pâté
We would be remiss if we didn't suggest pairing our pâté with our crackers. Both made with love and created to pair perfectly, any of our pâtés create a satisfying meal in mere seconds.

Our Wild Forest Mushroom Pâté is a classic, yet tantalizing combination of pork and chicken with bold bites of earthy mushroom.

For a lighter spread, we wholeheartedly suggest one of our Vegetable Terrines – such as our summertime favorite, Eggplant with Goat Cheese and Roasted Red Peppers.

Tuna & Avocado
Tuna sandwiches are a staple food – made better only with avocado. For a light summer salad, combine tuna with mashed avocado and nonfat Greek yogurt to taste. Season with salt and pepper, spread on your cracker, and enjoy!

Goat Cheese & Honey
Fresh chevre, spread generously and topped with a drizzle of honey, is an instant crowd-pleaser. For added depth of flavor, top with chopped apples or strawberries.

Spring Pairings: Easy, Breezy Pâté Picnic Ideas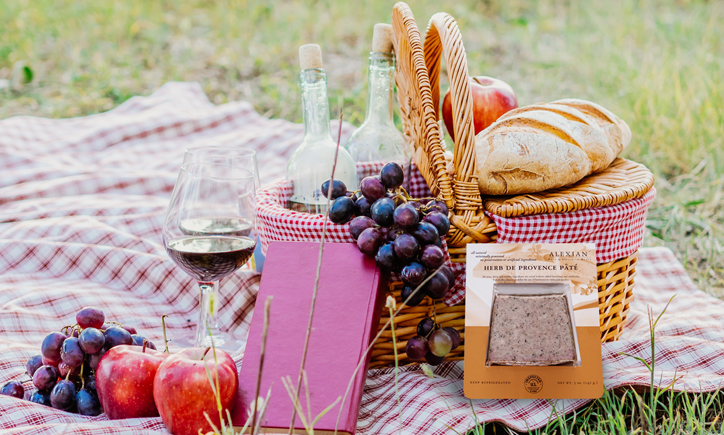 When the weather is this nice, it's hard to stay indoors – even for dinner! Picnics are the perfect way to spend a little extra time soaking up the sunshine, whether it's with your family, partner friends or on your own. To make the planning as painless as possible. we've gathered our very best advice and recipes for creating a picnic to remember.

The Food

Mini-Quesadillas
Quesadillas for a picnic? We know it sounds a little atypical, but these are great for picnics for two very important reasons: they're easy to make in large batches and they don't get soggy!

You'll need 6" flour tortillas – a good rule of thumb is to estimate about 3-5 per person, depending on if you're bringing other sides and if it's a dinner or lunch meal. It's never a bad thing to have leftovers!

Place the tortillas on a large baking tray, lined with parchment paper or aluminum foil. Top with sliced red and yellow bell peppers, your preferred blend of Mexican cheeses and finall, put a spoonful of our rich Duck Rillette. Fold in half, and place them in the oven at 375 degrees F for 7-10, or until the cheese is melted and the tops are slightly golden brown. To keep warm, wrap them in aluminum foil.

You'll need sour cream, salsa and guacamole to dip. For accompanying sides, bring along chips and guacamole, spanish rice, refried beans or an avocado salad.

Pasta Salad
Pasta salad is a lovely picnic dish – it's filling, versatile and is fine when eaten cold or warm. Start with your favorite variety of pasta – penne is always a good choice, but you also can't go wrong with angel hair, farfalle or ziti – and then add your favorite vegetables.

When making this for ourselves, we use grape tomatoes, sliced mushroom and cucumbers. Incorporate cubes of fresh mozzarella or cheddar. Finally, top with cubes of our rich Forest Mushroom Pâté .

Don't forget to bring bowls, forks and a serving spoon!

Truffle Balls
We're not sure what the best part of this recipe is – the truffle, the mousse, the poppable, bite-size shape, or the fact that you don't have to turn on your oven to make them. For years, our Truffle Mousse Balls have inspired rave reviews, yet this three-ingredient recipe takes only minutes to make.

Simply roll teaspoon-sized balls of our Truffle Mousse into a mixture of Panko breadcrumbs and thyme, then set them in the fridge until you're ready to serve them. Make these in a large batch. The decadence of the truffle makes each bite practically melt in your mouth, keeping you coming back to the plate again and again.

The Drink

For Adults
One should always take advantage of seasonal craft beers. Brewers typically use the freshest fruits, herbs and spices on hand, meaning that during summer, we're flush with bright, citrus-y shandys and wheat ales. Summer beers are usually light, crisp and refreshing, making them the perfect pair for rich, creamy and spicy flavors.

Likewise, IPAs are hoppy, strong beers that work incredibly well with rich flavors. For a perfect pairing, we suggest a thin slice of our Campagne pâté 'tween the burger and the roll. Lose the ketchup though, add a pickle instead!

For the Little Ones
You can't go wrong with a homemade lemonade! Steer away from harmful artificial sugars and syrups and embrace natural with this strawberry lemonade recipe.

Helpful Tips for the Perfect Picnic

Get Creative. You don't have to buy anything to have a great time. It's easy to reuse things around your house for picnic purposes. Use old jam jars to carry condiments, a thermos for ice cubes or cold drinks, and muffin tins to hold your drinks once you're on location.

Go Recyclable. Don't stress yourself out by carrying home a garbage bag full of dirty dishes. Choosing recyclable options such as paper plates, cups and tableware will make cleanup a snap.

Plan it Out. Find a place you'd like to spend the afternoon, scope it out – are there picnic tables, or will you need to bring a blanket? Do you need to bring chairs? Is there a BBQ? A few minutes of planning beforehand can make your afternoon one to remember.

Spring Pairings: Pâté & Chutney

Do you ever find yourself wondering how to enhance your favorite foods? Classics like ketchup and mustard get boring and don't work on a lot of dishes. That's why we believe chutneys are a great condiment to have around: they use bold and bright flavors to enhance their main course counterparts. The rich and flavorful aspects of both chutneys and pâtés work in harmony – making them our pairing of choice this springtime.

Four Pairings for you to Try at Home:

1. Pheasant Rosemary Pâté + Spiced Plum Chutney

This pairing brings the holiday spirit to any time of the year. Bold, deep flavors on both ends make these two perfect to stand alone as appetizers.

Find more information about our Pheasant Rosemary Pâté here, and a recipe for Spiced Plum Chutney here.

2. Campagne + Tamarind Chutney

A tamarind chutney is one of the most popular, and its thick yet saucy texture makes it perfect for drizzling over an aged cheese or a pâté or spread onto a slice of bread. Its sweet and sour taste pairs especially well with our Pâté de Campagne which features pork and sherry. Enjoy with a bed of fresh greens, such as arugula or spinach.

Find more information about our Pâté de Campagne and a recipe for tamarind chutney here.

3. Chicken Ballotine + Mango Pineapple Chutney

When paired correctly, sweet and savory are a marriage made in heaven. This pairing is one of those marriages. The bright citrus flavors of the mango pineapple chutney pair well with savory, lean chicken and the tropical flavors of our Chicken Ballotine.

Find more information about our Chicken Ballotine here , and a recipe for Mango Pineapple chutney here.

4. Black Peppercorn Mousse + Cherry Tomato Chutney

The creamy texture of our Black Peppercorn Mousse is enhanced by the chunky texture of this savory cherry tomato chutney. Pair these two together on top of a burger, on a sandwich, or as an easy anytime snack with a slice of baguette.

Find more information about our Black Peppercorn Mousse here, and a recipe for Cherry Tomato Chutney here.