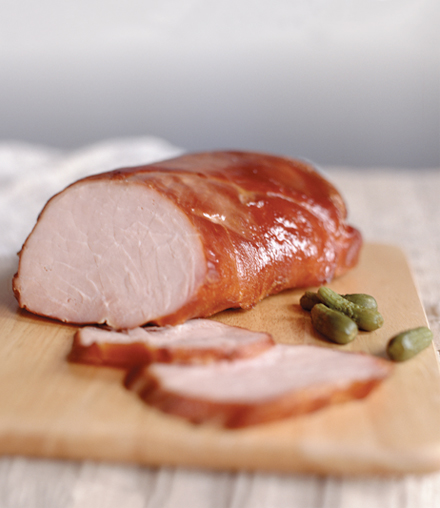 Charcuterie
Black Forest Ham
Premium quality "inside" ham muscle. Very lean and tender with mild smoky flavor.
Shelf life: 90 days
Ingredients
Cured with Water, Salt, Corn Syrup Solids, Hydrolyzed Soy Protein, Sodium Phosphate, Sodium Nitrite, Natural Maple Flavor, Spices, Sodium Erythorbate
Contains Soy.
Sizes
All products are vacuum packaged for optimal shelf life, and are sold random weight unless otherwise noted.
Details
All Natural. Made without added sodium nitrite. Free of added growth stimulants and antibiotics.
Slice thin and roll onto a toothpick. Serve with mustard!
Ingredients:
10 eggs
4 oz cream cheese
1/4 cup whole milk
1/4 tsp salt
1/4 tsp pepper
1/4 cup chives
1/2 cup finely diced roasted red pepper
1 cup shredded cheddar cheese
12 slices Black Forest Ham
Instructions:
preheat oven for 350 degrees. In a large mixing bowl, beat eggs, milk, and cream cheese. Add in salt and pepper and mix. Mix in roasted red peppers and chives. Lightly grease muffin pan. Insert a slice of ham in each muffin cup and gently press down in the middle until a cup shape forms. Be careful not to tear and make sure that there are no gaps or holes. Evenly distribute the cheese in each of the ham cups. Using a scoop or measuring cup, evenly distribute the egg mixture in each of the ham cups. Bake Black Forest Ham, egg, and cheese cups for about 25 minutes until cooked serve.
Total Time 35 minute
Serving 12
Slice thin and layer on bread or toast with Dijon mustard and gherkins.