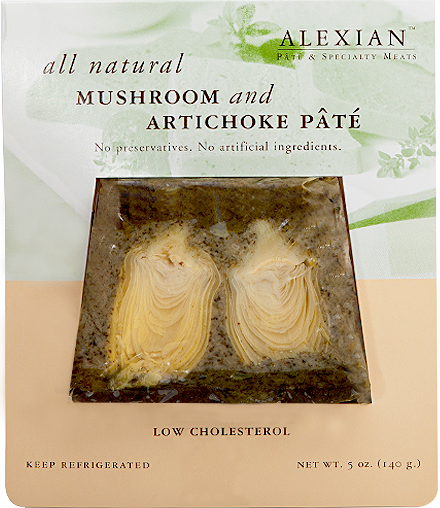 Vegetable Pâtés
Mushroom & Artichoke
Our Mushroom Artichoke paté features artichoke hearts nestled in a delightful mushroom mousse that is sandwiched between layers of mixed spinach and broccoli.The plethora of vegetables offers a healthy snack that can be enjoyed on it's own or as a flavorful side to salads and vegetable plates.
Ingredients
Made with all natural artichoke hearts, spinach, mushrooms, milk, onion, broccoli, cream and a special blend of spices.
Artichoke Hearts, Spinach, Mushrooms, Milk, Onion, Broccoli, Cream, Gelatin, Cornstarch, Nonfat Dry Milk, Salt, Sugar, Garlic, Lemon, Tarragon, Parsley, Pepper
Contains Milk and Nonfat Dry Milk.
Details
All natural ingredients
No preservatives, hormones or antibiotics
Keep refrigerated
Use cornichons and cherry tomatoes for colorful garnishes that are flavorful accompaniments. Add mixed greens or carrot and celery sticks to round out a quick and delicious vegetable plate.
Cube and spear with a toothpick for hors d'oeuvres or slice and serve on a plate garnished with mixed green vegetables for an attractive, flavorful appetizer.
Serve with cubed pieces of cheese, dried fruits and nuts to make a hearty and satisfying afternoon snack.