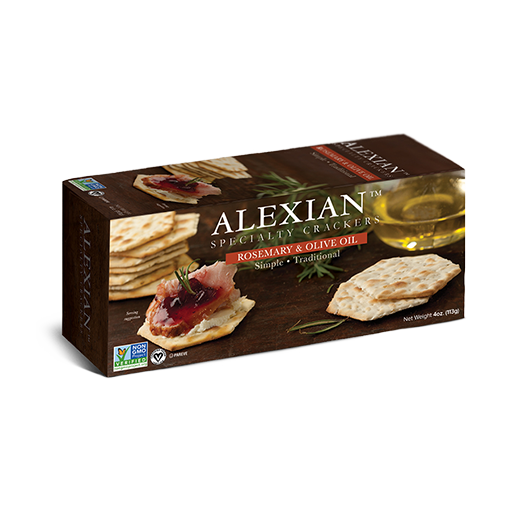 Accompaniments
Rosemary & Olive Oil Crackers
A hint of olive oil, a touch of sea salt, sprinkled with rosemary and baked to a precise degree of crispness. The Alexian Specialty Cracker is the perfect choice to enjoy solo or crowned with cheese, pâté, or whatever your taste buds are craving–utterly complementary to any partner.
In keeping with Alexian's commitment to high-quality products, Alexian Rosemary & Olive Oil Specialty Crackers are made with four simple ingredients and nothing artificial. They are also Non-GMO Project Verified, Vegan Certified and Kosher.
Ingredients
Unbleached Wheat flour, Rosemary, Olive Oil, Sea Salt
Details
All natural ingredients
No preservatives
Non GMO Project verified
Vegan certified
Kosher
Alexian Chicken Liver Pâté + Capers + Shredded Smoked Cheddar
Smoked cheddar complements the bold flavors in our classic New York deli style Chicken Liver Pâté .
Goat Cheese + Sliced Fig + Balsamic Dressing Drizzle
Figs are a lovely late fall fruit, and the balsamic drizzle brings out their natural sweetness, while the goat cheese provides a creamy balance.
Alexian Pheasant Rosemary Pâté + Chopped Pecans + Fresh Rosemary Sprigs
As the name suggests, our Pheasant Rosemary Pâté already has hints of rosemary and pecans, but adding extra on top brings out the flavor. Toast the pecans for extra flavor!