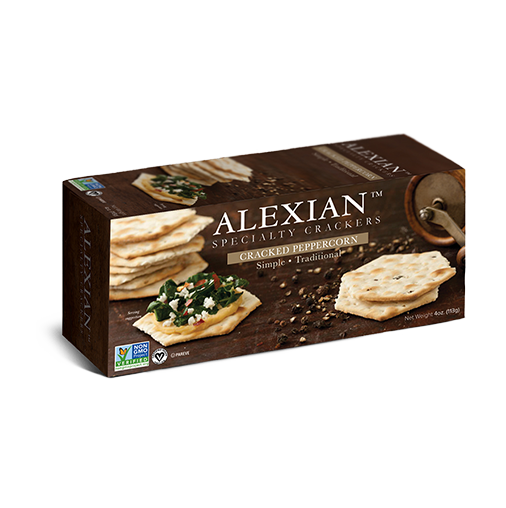 Accompaniments
Cracked Peppercorn Crackers
A hint of olive oil, a touch of sea salt, cracked peppercorn and baked to a precise degree of crispness. The Alexian Specialty Cracker is the perfect choice to enjoy solo or crowned with cheese, pâté, or whatever your taste buds are craving–utterly complementary to any partner.
In keeping with Alexian's commitment to high-quality products, Alexian Cracked Peppercorn Specialty Crackers are made with four simple ingredients and nothing artificial. They are also Non-GMO Project Verified, Vegan Certified and Kosher.
Ingredients
Unbleached Wheat flour, Expeller Pressed Canola Oil, Cracked Pepper, Sea Salt
Details
All natural ingredients
No preservatives
Non GMO Project verified
Vegan certified
Kosher
Smoked Salmon + Cream Cheese + Dill
Smoked salmon and cream cheese are usually found on a bagel, but our crackers make a great vehicle too. Add a sprig of dill for a fresh balance to the creamy and smoky flavors.
Avocado + Turkey + Swiss
It's great on a sandwich, but it's even better on our crackers. Pair avocado, deli sliced turkey and either shredded or sliced swiss for a perfect appetizer (or lunch on the go).
Alexian Black Peppercorn Mousse + Grilled Onions + Smoked Gouda
A comforting combination for a fall day, our Black Peppercorn Mousse goes perfectly with caramelized onions and a mild smoked gouda.