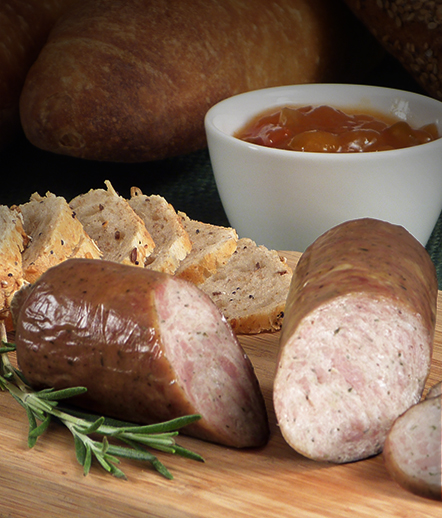 Charcuterie
Saucisson Smoked Sausage – Rosemary
Made with pheasant, pork, and duck meats.Subtle notes of rosemary and port wine. Smoked in an easy-peel fibrous casing. 9 ounces.
Shelf life: 90 days
Ingredients
Pork, Duck, Pheasant, Water, Pork Fat, Sugar, Salt, Spices, Port Wine, Celery Powder
Sizes
All products are vacuum packaged for optimal shelf life, and are sold random weight unless otherwise noted.
Details
All Natural. Made without added sodium nitrite. Free of added growth stimulants and antibiotics.
Slice and layer with Dijon mustard and a strong cheese.
Slice and serve with a creamy horseradish sauce.
Creamy Horseradish  
  ½ cup mayo
 2 teaspoon s prepared horseradi sh sauce
 1 teaspoon cajun seasoning
Make a platter with popular garnish companions like fruit slices, grapes, cherry tomatoes, cheese, and cured meats. Serve with bread and wine.